On June 2, 2017, the U.S. Judicial Panel for Multidistrict Litigation (JPML) consolidated all federally filed Ethicon Physiomesh lawsuits into one court in the Northern District of Georgia. District Court Judge Richard W. Story was appointed to oversee the pre-trial proceedings.
The Judge has scheduled an initial case management conference for August 1, 2017. In a June 21, 2017, court order, the judge outlined the agenda for the conference and provided guidance for how the parties should prepare.
Judge Gets the Ball Rolling on Ethicon Physiomesh MDL
The plaintiffs involved in this consolidated litigation have similar claims about Ethicon's Physiomesh, namely, that they were implanted with the device and then experienced serious injuries. These include complications like pain, bleeding, infections, mesh migration, nerve damage, recurring hernias, among others, many requiring at least one if not more revision surgeries.
There are currently about 70 cases pending in Georgia, with more expected to be filed in the coming months. At the first status conference, the parties are expected to suggest ways that the litigation can proceed in a just, speedy, and inexpensive manner. They have also been instructed to confer prior to the conference to seek consensus on agenda items, such as a proposed discovery plan and a suggested schedule for joinder of parties, amendment of pleadings, and consideration of any class action allegations, motions, and trial.
The judge also directed counsel to submit a written statement, by July 25, 2017, indicating their preliminary understanding of the facts involved in the litigation, and the critical factual and legal issues. All outstanding disclosure and discovery proceedings have been stayed until the status conference.
Ethicon Recalls Physiomesh in May 2016
The Ethicon Physiomesh is a small medical device used in the repair of ventral (abdominal) hernias. Doctors use the mesh to help "patch up" weakened and bulging tissues and to stabilize them for long-term repair. The mesh is supposed to help make the procedure easier and the hernia repair more stable, but reports have indicated that instead, it has caused a number of problems.
On May 25, 2016, Ethicon released an urgent field safety notice alerting hospitals, surgeons, and medical center personnel worldwide to stop using Physiomesh. The reason cited was that recurrence and reoperation rates after laparoscopic hernia repair using Physiomesh were "higher than the average rates of the comparator set of meshes among patients in these registries."
Doctors noticed more recurrence rates than usual with this product, and more patients had to go through additional surgeries to fix the problems.
Ethicon released the product on the market in 2010. It advertised the product as being of superior design, with materials that were supposed to help reduce risk of inflammation and infection and increase incorporation into the body's own tissues. Plaintiffs have stated in their complaints, however, that the mesh promotes infection and inflammation, as well as pockets of fluid, and leads to improper healing, scar formation, and abscess formation.
Several studies have supported plaintiffs' claims. In a 2016 study, for example, researchers compared two different types of mesh used for hernia repair: Physiomesh and Ventralight ST mesh. They found that Physiomesh resulted in more recurrences of the hernias than the other mesh, and that it caused a significantly higher pain rate after three months.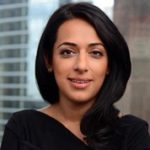 Exclusively focused on representing plaintiffs—especially in mass tort litigation—Roopal Luhana prides herself on providing unsurpassed professional legal services in pursuit of the specific goals of her clients and their families. While she handles complex cases nationwide on behalf of consumers, Ms. Luhana resides with her family in Brooklyn, New York.