All federal DePuy Pinnacle hip lawsuits were consolidated into one court on May 23, 2011. At that time, the U.S. Judicial Panel on Multidistrict Litigation (JPML) centralized these cases into Multidistrict Litigation (MDL) No. 2244, also known as the DePuy Pinnacle MDL. The panel appointed Judge James Kinkeade to oversee the pre-trial process in the Northern District of Texas.
The court held a status conference on August 9, 2012, in Dallas, Texas. Prior to this conference, Judge Kinkeade ordered counsel to confer with the Special Master to establish a firm schedule for the course of the litigation, and to propose a procedure for handling explanted Pinnacle devices. Court documents reveal that the MDL is now managing over 1,800 cases.
DePuy submitted a proposed schedule on July 24, 2012, suggesting the first bellwether trial take place on December 2, 2013.
DePuy Pinnacle Reputed to Increase Risk of Metal Contamination
Plaintiffs involved in the current DePuy Pinnacle MDL all share similar complaints about the metal-on-metal hip implant. They allege that the device was defectively designed and manufactured, and that the company failed to provide adequate warnings concerning the risks. Similar to the recalled DePuy ASR implant, as well as other all-metal implants like the Zimmer Durom Cup and the Biomet M2-Magnum, the DePuy Pinnacle has an all-metal option that increases the risk of metal contamination in the surrounding tissues, bone, and bloodstream.
During normal wear and tear, all-metal hip components can rub against one another, depositing tiny shards of cobalt and chromium into the joint. These metal shards can create tissue damage and death, and lead to bone loss, premature loosening and implant failure. According to a recent study published in Orthopedics, if an all metal hip is going to fail, it typically does so within the first two years.
DePuy Proposes Date for First Bellwether Trial
At the status conference on August 9, 2012, the parties discussed scheduling issues, as well as potential attorneys that will serve as leaders in the pretrial proceedings. In DePuy's proposed schedule, depositions and designations for the first bellwether trial would be completed between May and August 2013, with the first trial beginning in December 2013. It is unclear at this time, however, if this schedule was accepted. Judge Kinkeade initially denied the motion as premature, stating the defendants needed to confer with the Special Master first.
A bellwether trial is a sort of "test trial" to indicate trends in a specific litigation. In a MDL, where many plaintiffs have similar complaints about one product, bellwether trials can help predict how future cases may go, and often pave the way for settlement negotiations.
DePuy Facing Other Litigation
In addition to DePuy Pinnacle lawsuits, DePuy is also defending lawsuits against its other all-metal implant, the DePuy ASR system. In August 2010, the company implemented a DePuy ASR recall, withdrawing the product from the market due to studies confirming a higher-than-acceptable failure rate.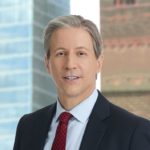 Exclusively focused on representing plaintiffs, especially in mass tort litigation, Eric Chaffin prides himself on providing unsurpassed professional legal services in pursuit of the specific goals of his clients and their families. Both his work and his cases have been featured in the national press, including on ABC's Good Morning America.