On March 8, 2013, a California jury awarded $8.34 million in damages to a Montana man who claimed to have suffered complications after total hip replacement surgery with the DePuy ASR hip system. DePuy Orthopaedics and parent company Johnson & Johnson face over 10,000 lawsuits regarding alleged design defects and safety issues with the DePuy ASR system.
Since that first verdict, plaintiffs and attorneys alike have been looking to the next trial for clues as to how the rest of the verdicts may play out. On March 11, 2013, the second lawsuit went to trial in Chicago, involving plaintiff Carol Strum, who is seeking approximately $5 million in damages. A verdict in that case is expected soon.
Meanwhile, federal cases concerning the ASR have been consolidated in the U.S. District Court for the Northern District of Ohio, where the first bellwether trial is expected to begin in May 2013.
First DePuy ASR Lawsuit Scheduled to Go To Trial in the MDL
Plaintiffs Faye Dorney-Madgitz and Harvey Madgitz filed a DePuy hip lawsuit on January 7, 2011, in the Eastern District of Pennsylvania. Their case was later transferred to the MDL. Faye Dorney-Madgitz claims that after going through total hip replacement surgery in May 2009, during which she had the DePuy ASR device implanted, she suffered several complications. These included pain, soreness, and "clicking, popping, and grinding" sounds heard when she was walking.
The ASR is a metal-on-metal device, with components made of cobalt and chromium. Studies have shown that these types of devices can shed tiny shards of metallic debris into the surrounding tissue of the joint, causing pain, inflammation, pockets of swelling, and difficulty walking, even leading to premature loosening of the implant itself. If the metal shards make their way into the bloodstream, they can cause systemic illness as well.
The plaintiff in this case claims that she suffered from high levels of cobalt and chromium.
Results Remain to Be Seen
Meanwhile, in the Chicago case, Dr. Thomas P. Schmalzried, orthopedic surgeon and co-inventor of the ASR device, was called to testify. He claimed that out of sixty-six implantations of the device, he had to perform revision surgery on 15, which computes to a failure rate of about 23 percent—a rate the doctor himself noted as unacceptable.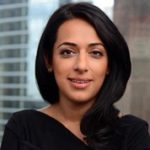 Exclusively focused on representing plaintiffs—especially in mass tort litigation—Roopal Luhana prides herself on providing unsurpassed professional legal services in pursuit of the specific goals of her clients and their families. While she handles complex cases nationwide on behalf of consumers, Ms. Luhana resides with her family in Brooklyn, New York.