After years of defending hip replacement lawsuits in courts around the country, DePuy Orthopaedics and parent company Johnson & Johnson have agreed to a $120 million settlement to resolve claims of false and unfair marketing made by 46 U.S. states.
Though the company stated that the settlement involves no admission of liability or misconduct, they will now, as part of the settlement agreement, have to maintain a post-market surveillance program to track complaints over the hip implants.
New York and 45 Other States Reach Settlement Agreement with DePuy
The 46 states accused DePuy of making false claims about their ASR XL and Pinnacle Ultamet metal-on-metal hip implants and misleading patients about the longevity of those implants. In a statement announcing the agreement, New York Attorney General Letitia James noted that DePuy advertised the ASR XL as having survivorship (longevity) of 99.2 percent at three years "when the National Joint Registry of England and Wales reported a 7 percent revision rate at three years."
The company also promoted the Pinnacle device as having survivorship of 99.8 percent and 99.9 percent at five years, when the National Joint Registry reported a 2.2 percent three-year revision rate in 2009, increasing to 4.28 percent at five years in 2012.
"Companies should never be allowed to freely mislead the public," James stated," especially when there are health concerns involved."
In addition to the other settlement requirements, DePuy will also have to update and maintain internal product complaint handling procedures, including training of complaint reviewers. The settlement payment will be split among the states.
DePuy Recalls Hip Replacement Devices After Making False Claims
DePuy recalled 93,000 of the ASR hip systems in 2010 after evidence showed they were prone to premature failure. The company admitted that 12 percent of the devices failed within five years. They have since settled thousands of other lawsuits filed by plaintiffs who had to go through potentially risky revision surgeries to either remove or repair the devices.
In 2013, DePuy also discontinued the Pinnacle devices because of increasing evidence showing metal-on-metal (MoM) devices to be riskier than other types. The company is also defending thousands of lawsuits related to this device, with plaintiffs claiming the products caused premature loosening and metal poisoning, among other injuries.
Dangers of Metal-on-Metal Hip Implants
When MoM hip implants first came on the market, they were advertised as being more durable and long-lasting than hip devices that combined metal and plastic or ceramic components. Research later discovered, however, that the metal components could rub against one another with regular wear and tear, leading to fretting and corrosion. Over time, the implants could shed tiny pieces of metal into the area surrounding the joint, leading to tissue damage and tissue death, pseudotumors, bone loss, and premature loosening and device failure.
The metal components could also leach metal ions into the bloodstream, causing a condition called "metallosis." Symptoms included skin rashes, inflammation, tingling and numbness, hip pain, hearing and vision changes, cognitive problems (brain fog), thyroid impairment, and cardiomyopathy.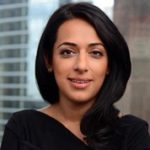 Exclusively focused on representing plaintiffs—especially in mass tort litigation—Roopal Luhana prides herself on providing unsurpassed professional legal services in pursuit of the specific goals of her clients and their families. While she handles complex cases nationwide on behalf of consumers, Ms. Luhana resides with her family in Brooklyn, New York.