In May 2017, all New Jersey State Court Stryker LFIT V40 lawsuits were coordinated before the Bergen County Superior Court to reduce the risk of duplicative discovery and conflicting rulings. On July 31, 2017, the multicounty litigation (MCL) convened a case management conference, during which a number of issues were discussed. These included short-form pleadings, fact sheets, written discovery, and the date of the next status conference.
Plaintiffs filing Stryker LFIT V40 femoral head lawsuits claim, in most cases, that the manufacturer was negligent in designing the component, and should have provided warnings about the risks of corrosion, fretting, and potential hip dislocation.
Judge Gets Multicounty Litigation Going in New Jersey
Judge Rachelle L. Harz is overseeing the proceedings in the NJ multi-county litigation, and noted in an August 1, 2017 order that she will continue to stay in contact with Judge Talwani of the District of Massachusetts, where all federally filed Stryker LFIT lawsuits have been centralized.
"This court is aware that there is overlap in the executive committees of both litigations," she writes, "which will assist in litigation going forward."
She directed the parties to come to an agreement on long and short-form pleadings by August 11th or to brief any remaining issues on those by August 25th. The parties are also to meet and confer regarding written discovery by August 21st and to submit a proposed protective order by August 11th.
The next case management conference is scheduled for September 20, 2017.
Stryker LFIT V40 Part of the Metal-on-Metal Hip Implant Problem
On August 29, 2016, Stryker released an urgent medical device notification, alerting doctors and medical centers to issues with their Stryker LFIT V40 femoral heads. They stated that on certain sizes manufactured prior to 2011, they received "higher than expected complaints of taper lock failure," with potential hazards including disassociation of the femoral head from the hip stem, and excessive metallic debris.
The FDA classified the recall as a Class 2 device recall, which identifies the devices as potentially causing temporary or medically reversible health effects. "Stryker received several complaints describing incidence of harm secondary to taper lock failure," the FDA wrote.
The "taper lock" is the part of the implant that connects the femoral head to the femoral neck. One problem with this hip implant system is that the LFIT V40 was made of metal materials, with a metal "trunnion" that connected to the hip stem. Over time, these two metal parts can wear against one another, causing corrosion and fretting that leaks metal debris into the surrounding hip joint.
This metal debris can cause a number of problems, including pockets of growths called pseudotumors, inflammation, tissue damage and tissue death, bone loss, loosening, and even dislocation of the femoral head from the rest of the implant.
A number of scientific studies have found that metal implant components can increase the risk of "trunnionosis," or corrosion between the head and neck. In a 2016 study review, for example, researchers stated trunnionosis was "a growing cause of total hip arthroplasty failure."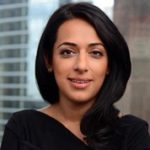 Exclusively focused on representing plaintiffs—especially in mass tort litigation—Roopal Luhana prides herself on providing unsurpassed professional legal services in pursuit of the specific goals of her clients and their families. While she handles complex cases nationwide on behalf of consumers, Ms. Luhana resides with her family in Brooklyn, New York.