An Alabama man has filed a Stryker LFIT V40 femoral head lawsuit in the U.S. District Court for the Northern District of Alabama. He claims that after being implanted with the Stryker LFIT component, he suffered serious injuries. He seeks both compensatory and punitive damages in excess of $75,000.
Manufacturer Stryker Howmedica Osteonics Corp. recalled the Stryker LFIT V40 femoral head in August 2016, due to a "higher than expected" number of complaints. Doctors were instructed to return all unused components that were manufactured prior to 2011, to the company for reprocessing.
Plaintiff Implanted with Stryker LFIT V40 Femoral Head
According to his complaint, the plaintiff underwent total hip replacement surgery on April 27, 2010. His surgeon implanted the Stryker Accolade TMZF Hip Stem and the LFIT Anatomic V40 femoral head. The femoral head is the "ball" part of the ball-and-socket hip joint. It fits into the socket of the pelvis bone on one end and is attached to the stem, which goes into the thighbone, on the other end.
The Stryker LFIT V40 femoral head is meant to be used with a number of hip replacement systems, including the Accolade TMZF mentioned in this case, as well as the Stryker Accolade II, the Meridian, and the Citation models. It is made of cobalt and chromium, and when used with other components that are made of metal alloys, it can increase the risk of fretting and corrosion within the hip joint.
When Stryker recalled the device, they stated that they'd received a higher-than-normal number of complaints of "taper lock failure." The taper lock is the part of the implant that connects the femoral head to the femoral neck. The Australian Goods Administration released a hazard alert warning in September 2016 noting that if a taper lock occurs, patients could experience loss of mobility, pain, inflammation, joint instability and even dislocation.
That's what happened in this plaintiff's case.
Plaintiff Had to Undergo Revision Surgery
The plaintiff states in his complaint that after implantation, his joint replacement failed. More specifically, fretting and corrosion occurred between the femoral stem and femoral head junction—the taper lock area. When this happens, it's called "trunnionosis," and is known to be a major factor in hip implant failure.
In a 2015 study, for instance, researchers found that trunnionosis caused pseudotumors (pockets of fluid and swelling) and related hip implant problems, and noted that when at least one cobalt/chromium component was present in a hip implant, "the incidence of this mode of adverse wear may be higher than previously thought…."
The plaintiff suffered damage to the hip joint including pain and inflammation, and also had higher than normal levels of cobalt and chromium in his bloodstream—a condition called "metallosis." He suffered from severe pain and discomfort, limited mobility and soft tissue damage. His surgeon recommended revision surgery, a procedure that is often more complicated and risky than the original hip implant surgery. The plaintiff went through the procedure on March 17, 2015.
The plaintiff blames Stryker for failing to adequately study their component before releasing it on the market to be sure of its safety, and for failing to provide adequate warnings as to its risks. He brings counts of liability, negligence, breach of warranties, fraudulent misrepresentation, fraudulent concealment and fraudulent inducement and suppression. His wife also claims loss of consortium.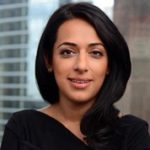 Exclusively focused on representing plaintiffs—especially in mass tort litigation—Roopal Luhana prides herself on providing unsurpassed professional legal services in pursuit of the specific goals of her clients and their families. While she handles complex cases nationwide on behalf of consumers, Ms. Luhana resides with her family in Brooklyn, New York.