A Louisiana woman recently filed a new Exactech knee lawsuit in the U.S. District Court for the Eastern District of Louisiana. She claims that after being implanted with the Exactech Optetrak Total Knee Replacement System, she suffered from serious injuries.
Exactech Knee Fails in Two Years
According to her complaint, the plaintiff went to the doctor in 2006 to seek treatment for her knee pain. Her orthopedic surgeon recommended a total knee replacement. She subsequently went through surgery on her right knee, during which her surgeon implanted the Exactech Optetrak Knee Replacement System.
In 2008, less than two years after the operation, the plaintiff experienced a loosening of the device and pain in her right knee. On October 28, 2008, she underwent revision surgery due to a "failed right total knee with a loose tibial component."
At the time of the surgery, doctors discovered that her knee was also infected. They removed the Optetrak Knee Replacement System and its components and treated the plaintiff for that infection.
Treatment continued until February 3, 2009. At that point, the plaintiff's surgeon implanted another Optetrak Knee Replacement System into her right knee.
Exactech Recalls Faulty Inserts
At the time of her original surgery, the plaintiff was unaware that her Optetrak system included a tibial tray insert that would later be recalled by the manufacturer because of defects.
The tibial tray is a polyethylene (plastic) insert that fits between the shinbone and the knee and serves as a shock absorber or cartilage replacement in the knee joint. On August 31, 2021, Exactech recalled many of these inserts because they had been packaged in non-conforming vacuum bags that could expose the inserts to oxygen.
Should oxygen penetrate the bag, it could cause oxidation of the insert. This would damage it and increase the risk of it failing prematurely after being implanted into a patient.
In February 2022, Exactech expanded the previous recall to include all polyethylene inserts manufactured since 2004, as all of them had been packaged in non-conforming bags.
Plaintiff Undergoes Two More Revision Surgeries
At the time of her revision surgery, the plaintiff was also unaware that Exactech had introduced a new tibial tray to replace the old one due to numerous reports of loosening and bone loss. Exactech did not disclose these reports to the general public or surgeons.
After the revision surgery, the plaintiff continued to suffer pain and instability in her right knee. In October 2012, doctors determined that the device had again loosened and failed. She had to undergo another revision surgery on October 18, 2012. At this re-revision, doctors implanted another defective insert in her knee.
The plaintiff continued to have difficulty with her right knee, so in March 2021, she switched her care to another medical center. There, she underwent yet another revision surgery on March 25, 2021, due to loosening and bone loss related to the defective knee implant. As a result of this revision surgery, the plaintiff's popliteal artery was severed. She continues to suffer from medical complications and risks.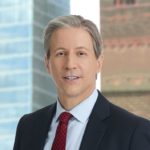 Exclusively focused on representing plaintiffs, especially in mass tort litigation, Eric Chaffin prides himself on providing unsurpassed professional legal services in pursuit of the specific goals of his clients and their families. Both his work and his cases have been featured in the national press, including on ABC's Good Morning America.