A Louisiana man has filed a new paraquat lawsuit in the U.S. District Court for the Western District of Louisiana. He claims that after being exposed to the herbicide, he was diagnosed with Parkinson's disease. He seeks compensatory and punitive damages.
Plaintiff Worked as a Paraquat Distributor
According to his complaint, the plaintiff worked as a paraquat distributor through his family's business, G&H Seed, in Louisiana. As a field representative for the business, he was directly responsible for checking farm fields both before and after paraquat was sprayed for approximately three years, and up to 30 days each year.
This task involved walking the fields after paraquat was applied to determine the effectiveness of the application. Paraquat is one of the most widely used herbicides in the U.S. to control weeds in many agricultural and non-agricultural settings. It is also used to desiccate (dry) crops like cotton prior to harvest.
The plaintiff states that he was exposed to paraquat in three ways:
When it was mixed, loaded, applied, and/or cleaned.
As a result of spray drift (the movement of herbicide spray droplets from the target area to an area where the herbicide was not intended to be applied, usually by the wind).
As a result of contact with sprayed plants.
The plaintiff believes that paraquat entered his bloodstream and attacked his nervous system. He was diagnosed with Parkinson's disease in 2014. At first, he had no idea that paraquat could be to blame. He knew the herbicide was toxic but didn't know it was associated with the disease until recently.
Because of his diagnosis, the plaintiff has been unable to maintain regular employment and has subsequently incurred expenses for medical treatment that are expected to be ongoing.
Paraquat Linked to an Increased Risk of Parkinson's Disease
Parkinson's disease is a progressive neurodegenerative disorder of the brain that affects primarily the motor system—which in turn, controls bodily movements. Symptoms include resting tremor, rigidity, and impaired balance.
One of the hallmarks of the disease is the selective degeneration and death of dopaminergic neurons (dopamine-producing nerve cells) in part of the brain. Dopamine is a neurotransmitter that is critical to the brain's ability to control motor function, among other things.
The death of dopaminergic neurons decreases the production of dopamine. Once these neurons die, they cannot be replaced. When enough have died, production of dopamine falls below the level the brain needs for motor-function control, resulting in symptoms of Parkinson's disease.
Several studies have linked exposure to paraquat with an increased risk of Parkinson's disease (PD). In a 2005 study, scientists found elevated incidences of PD among farmers who used herbicides and paraquat. Data from patients with PD in the Central Valley of California revealed that exposure to pesticides maneb and paraquat within 500 meters (about 1,640 feet) of the home increased the risk of PD by 75 percent.
In 2019, researchers conducted a systematic review of the literature and found that PD occurrence was 25 percent higher in participants exposed to paraquat.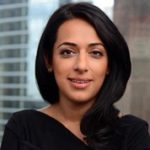 Exclusively focused on representing plaintiffs—especially in mass tort litigation—Roopal Luhana prides herself on providing unsurpassed professional legal services in pursuit of the specific goals of her clients and their families. While she handles complex cases nationwide on behalf of consumers, Ms. Luhana resides with her family in Brooklyn, New York.