Interstitial cystitis (IC) drug Elmiron (pentosan polysulfate sodium or PPS) has been on the market since 1996. Recent studies have linked long-term use of this drug to an increased risk of a rare form of eye damage called pigmentary maculopathy.
Individuals who used the product for years and then suffered vision loss may be eligible to file a lawsuit against Elmiron manufacturer Janssen Pharmaceuticals and parent company Johnson & Johnson. A Kansas woman recently did just that, filing her Elmiron lawsuit in the U.S. District Court for the Eastern District of Pennsylvania.
Studies Link Long-Term Elmiron Use to Eye Damage
Several recent scientific studies have linked long-term use of Elmiron with pigmentary maculopathy, a condition in which the central portion of the retina (called the macula) develops excessive capillaries or pigmented spots that affect central vision.
It began when doctors started noticing a pattern of vision-threatening retinal changes associated with long-term use of PPS. After extensive investigation, it became clear that the cases they were seeing didn't resemble any other retinal diseases.
As awareness grew, several more studies were published on the issue, including one involving 140 patients who had taken Elmiron for a minimum of 5 years. Researchers found that 24 percent of them showed eye damage.  Significantly, the results showed that the more Elmiron taken, the greater the damage. A later study found that patients taking the drug for seven years or longer were at an increased risk of having maculopathy.
Scientists Recommend Annual Vision Screening for Patients on Elmiron
In her complaint, the Kansas plaintiff claims that she was prescribed Elmiron in 2010 to treat her painful bladder and/or interstitial cystitis (IC). IC is a medical condition in the bladder that causes bladder pressure, pain, and sometimes pelvic pain. There is no known cause or cure, and the symptoms can range from mild to debilitating.
Elmiron was FDA-approved in 1996 as a treatment for IC and painful bladder symptoms, and remains the only available drug specifically approved for these conditions, though other medications have been used off-label to treat these conditions. How it works to relieve symptoms of IC is unknown, but clinical trials have shown it to be effective.
In 2019, the plaintiff began to experience visual symptoms. In March of 2020, she was diagnosed with permanent retinal injury and vision loss associated with Elmiron use. She notes that the retina of the eye is especially susceptible to the effects of the drug because it has an extensive dual blood supply and is one of the most metabolically active tissues in the body. It also has a limited ability to repair or regenerate itself, which puts it at an even higher risk of drug toxicity.
Scientists who have been analyzing the data recommend that patients taking Elmiron be screened for retina damage at least once a year. Those who show some signs of damage should speak with their urologist or other doctor about discontinuing the medication. Study results also indicate that doctors should discuss the risks of Elmiron with their patients before prescribing it, and should prescribe the lowest dose possible.
The plaintiff notes that while Janssen Pharmaceuticals has made label changes in other countries to warn users of potential vision injuries, it made no such change in the U.S. until June 2020.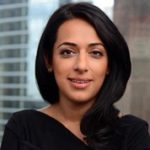 Exclusively focused on representing plaintiffs—especially in mass tort litigation—Roopal Luhana prides herself on providing unsurpassed professional legal services in pursuit of the specific goals of her clients and their families. While she handles complex cases nationwide on behalf of consumers, Ms. Luhana resides with her family in Brooklyn, New York.