A Kentucky woman recently filed a new Elmiron lawsuit in the U.S. District Court for the District of New Jersey. She claims that after using the medication, she suffered from vision loss. Her case joins the other federally filed Elmiron lawsuits that were centralized in New Jersey on December 15, 2020.
Plaintiff Takes Elmiron for Eight Years, Suffers Maculopathy
The plaintiff states in her complaint that she was diagnosed with interstitial cystitis (IC), a painful bladder condition that causes bladder pressure, pain, and sometimes pelvic pain, as well as a persistent, urgent need to urinate and frequent urination. The exact cause of the condition is unknown, but it is believed to arise from a defect in the protective lining of the bladder.
The Food and Drug Administration (FDA) approved Elmiron (pentosan polysulfate sodium or PPS) in 1996 specifically for the treatment of IC. It was and remains the only prescription drug approved for the treatment of this condition. Patients typically take 100 mg capsule three times a day. Relief from symptoms can take up to 3-6 months, and patients must continue to take the drug to manage symptoms.
The plaintiff took Elmiron from 2012 through 2020. She says she received no warnings from the manufacturers about the risk of vision damage, and neither did her doctors receive any warnings related to retinal injury. She also received no recommendation from the manufacturer to regularly monitor her vision health while taking the drug.
The plaintiff now suffers from severe maculopathy in both eyes. This is a condition in which the macula, at the center of the retina, is inflamed and damaged. Her symptoms include blurry vision, night blindness, difficulty adjusting to dim lighting muted less vivid colors, near vision problems, inability to drive at night, and straight lines appearing curved or squiggly.
Early Studies Indicate Potential Vision Problems in Those Taking Elmiron
The plaintiff states that despite numerous studies and other information, the defendants failed to provide clear evidence of the dangers of Elmiron. She argues that there was clear evidence that Elmiron's use was associated with vision damage in the initial evaluations of the medication dating back to the late 1980s and early 1990s.
Indeed, in the data the company relied upon when seeking FDA approval, there were reports of adverse effects related to the use of the drug including blurred vision. Medical research identified as early as 1991 indicated that PPS inhibited the regrowth and proliferation of retinal pigment epithelial cells, and could thereby impair retinal health, yet the defendants never alerted the FDA to these issues.
Almost immediately after the FDA approved Elmiron, patients and doctors started reporting serious complications related to eye and vision problems. Then in 2018, researchers from the Emory Eye Center published their concerns about a unique eye disease they were seeing in patients taking Elmiron.
More studies followed connecting Elmiron to an increased risk of vision damage and loss, yet Elmiron manufacturers did not add a related warning on the product label until June 2020.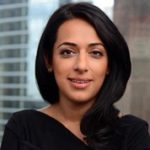 Exclusively focused on representing plaintiffs—especially in mass tort litigation—Roopal Luhana prides herself on providing unsurpassed professional legal services in pursuit of the specific goals of her clients and their families. While she handles complex cases nationwide on behalf of consumers, Ms. Luhana resides with her family in Brooklyn, New York.