As Philadelphia prepares for its first talc-related cancer case to go to trial, manufacturer Johnson & Johnson will not be able to block experts from testifying about the alleged connection between talcum powder and ovarian cancer. The company had filed a motion to have six of the plaintiff's expert witnesses rejected, arguing that the doctors used methods not generally accepted in the scientific community.
Philadelphia trial Judge Fredrica Massiah-Jackson denied the motions, indicating that the company had failed to challenge the doctors' methods and instead had simply challenged their conclusions—an issue that should be up to the jury to decide.
This means that the cases will be allowed to move forward as previously scheduled.
District Judge Allows Expert Testimony
This decision follows in the footsteps of a previous decision handed down by U.S. District Court Judge Freda L. Wolfson. She is overseeing the consolidated talc powder lawsuits pending in New Jersey. As in Philadelphia, J&J had tried to block five of the plaintiffs' experts from testifying about a possible link between the use of talc-based powder and ovarian cancer. Company executives called into question the legitimacy of the science being presented by the experts.
Judge Wolfson ruled that plaintiffs may present expert testimony that J&J's talc products can cause cancer based on epidemiological studies, and that they could testify that the talc could be contaminated with asbestos and heavy metals, which could then damage cells in the ovaries.
Clinical experts initially challenged but now cleared to testify include Anne McTiernan, M.D., Ph.D.; Arch "Chip" Carson, M.D., Ph.D.; and Daniel Clarke-Pearson, M.D., all college professors with experience in cancer research and gynecologic oncology. Additional testimony from Ghassan Saed, M.D., Ph.D., who will testify about how talcum powder can create inflammation and oxidative stress in cells; and William Longo, Ph.D., who will testify that J&J talcum products can contain asbestos and fibrous talc, will also be allowed.
Findings Concerning Link Between Baby Powder, Ovarian Cancer are Mixed
Johnson & Johnson currently faces over 19,000 talc-based product lawsuits filed around the country, with plaintiffs claiming that the company knew for decades that their products could be contaminated with cancer-causing asbestos, but failed to warn the public or the healthcare community. Over 16,000 of those cases are pending in the New Jersey MDL.
Plaintiffs claiming that J&J's Baby Powder caused ovarian cancer suggest that if the powder particles travel up through the vagina, uterus, and fallopian tubes to the ovaries, they can remain there and cause cancerous changes. Studies examining this relationship have been mixed.
Many case-control studies have found a small increase in risk, according to the American Cancer Society, while prospective cohort studies have generally not found a risk. Some of the latter have suggested possible increased risks in certain groups of women, however.
On May 19, 2020, J&J announced that it will no longer sell its Johnson's Baby Powder in North America, citing a drop in demand. The company will allow the current inventory to be sold until it runs out.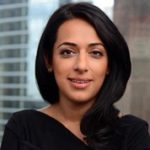 Exclusively focused on representing plaintiffs—especially in mass tort litigation—Roopal Luhana prides herself on providing unsurpassed professional legal services in pursuit of the specific goals of her clients and their families. While she handles complex cases nationwide on behalf of consumers, Ms. Luhana resides with her family in Brooklyn, New York.