Despite Johnson & Johnson's claims that its talc products do not contain asbestos, it is now recalling a lot of baby powder after trace amounts of the carcinogen were found in the product. The lot includes about 33,000 bottles.
The Food and Drug Administration (FDA) conducted tests on samples of the baby powder and found sub-trace levels of chrysotile asbestos contamination (no greater than 0.00002 percent). The administration notified the company of its findings and posted the recall on its site to warn the public.
This news comes just after a Los Angeles jury awarded $40.3 million in damages to a plaintiff claiming to have developed mesothelioma from her use of J&J's talcum powder.
FDA Finds Traces of Asbestos in J&J's Baby Powder
The FDA found the minuscule amounts of asbestos during routine testing of samples from a single bottle of J&J's baby powder purchased online. The administration notified the company and J&J began its own investigation. J&J notes that as recently as September 2019, the FDA's testing had found no asbestos in J&J's products. "Thousands of tests over the past 40 years repeatedly confirm that our consumer talc products do not contain asbestos," the company stated in the recall announcement. "Our talc comes from ore sources confirmed to meet our stringent specifications that exceed industry standards."
This statement is similar to the one J&J has issued at multiple trials concerning its products and cancer. Yet several juries have reached multimillion-dollar verdicts against the company. According to a Reuters investigation, J&J knew for decades that its talcum powder products were sometimes tainted with asbestos, yet did not disclose that information from the public.
Court Documents Reveal J&J Aware of Potential Contamination
Asbestos is a fibrous silicate mineral that, because of its ability to resist heat, makes an effective insulator. For years it was used to make building materials, fireproof protective gear, and more before it became known that it could cause cancer. Today the mineral is banned in many countries, but not in the U.S.
Should humans inhale the fibers or ingest asbestos dust, the fibers can become trapped in the body, where over a long period, they may cause inflammation, scarring, and DNA damage. Mesothelioma, an aggressive and typically fatal form of cancer, is almost exclusively caused by exposure to asbestos. The mineral can also cause other types of cancer and progressive lung disease.
J&J has always maintained that its baby powder products are asbestos-free, but it's well known that talc and asbestos often occur together in the earth, and that mined talc may be contaminated with asbestos. The company is now defending over 11,000 lawsuits involving claims that its talc products caused cancer.
Over the course of the litigation, court documents revealed that from at least 1971 to the early 2000s, the company's raw talc and finished powders sometimes tested positive for small amounts of asbestos. In Reuters examination of these documents, in addition to deposition and trial testimony, investigators found evidence that company executives, mine managers, scientists, and lawyers shared concerns about how to address the issue, but no one revealed it to the public.
In the most recent J&J talcum powder lawsuit to go to trial, the plaintiff claimed that she was diagnosed with mesothelioma in 2017. Her body showed traces of asbestos, which she blamed on her exposure to Johnson's Baby Powder and Shower to Shower. The company countered that the plaintiff's exposure came from the industrial area where she lived, but the plaintiff never worked or entered those facilities. The jury agreed with the plaintiff and awarded her $40.3 million.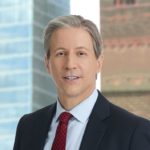 Exclusively focused on representing plaintiffs, especially in mass tort litigation, Eric Chaffin prides himself on providing unsurpassed professional legal services in pursuit of the specific goals of his clients and their families. Both his work and his cases have been featured in the national press, including on ABC's Good Morning America.