Under pressure from scientists and consumers, Janssen Pharmaceuticals has updated the label for its interstitial cystitis (IC) drug, Elmiron, to address the risk of developing damage to your vision. The company had already made similar label changes in Canada and Europe but failed to warn U.S. consumers until now.
The new warning alerts doctors and patients to watch out for changes in the retina of the eye, which could indicate potential damage to the patient's central vision.
Studies Link Long-Term Elmiron Use to Vision Damage
Starting in 2018, several studies were published showing a relationship between long-term use of Elmiron (pentosan polysulfate sodium or PPS) and a unique type of vision damage scientists named "pigmentary maculopathy." It started in 2018 when Dr. Neiraj Jain and colleagues wrote a letter to the editor of the Journal of Urology alerting readers to a new condition they were seeing among their patients taking Elmiron.
Six of the doctors' patients were having difficulty reading and adapting to areas of dim light. Upon further investigation, doctors found that these patients had subtle hyperpigmentations (spots) on the retina of their eyes. The retina is the layer of tissue at the back of the eye that receives light and converts it into nerve signals that are then sent to the brain for interpretation.
Jain and colleagues continued their research, and in April 2019, published a second case series, identifying 10 patients with a median age of 59 years who were currently using Elmiron or had used it in the past. All of them showed similar symptoms of retinal damage. The researchers encouraged the patients to stop taking the drug. They also named the new condition pigmentary maculopathy because it was characterized by spots on the macula, which is in the center of the retina.
Despite these studies, Janssen failed to change the product's warning label to alert patients to the issue. The Interstitial Cystitis Network (ICN) submitted a Citizen Petition to the FDA requesting that the Agency require Janssen to update its product label. "Patients should be notified that there is a strong association between retinal disease and pentosan use," the petition read.  They also recommended annual eye examinations.
Patients Diagnosed with Vision Problems May Be Eligible to File Elmiron Lawsuits
In the summer of 2019, the European Medicines Agency (EMA) demanded that the Elmiron label be updated to address the risk, and in October 2019, Health Canada did the same. Janssen met these demands but still did not change the label in the U.S.
In November 2019, researchers reported that patients taking Elmiron for seven years or longer were at an increased risk of developing maculopathy. Still, nothing changed at Janssen until June 2020, when the company finally added a new warning about eye disease to its Elmiron label. The new verbiage notes that pigmentary changes in the retina "have been identified with long-term use of Elmiron," adding that cases had also occurred with a shorter duration of use.
Patients who took Elmiron for years and then were diagnosed with vision damage and/or vision loss may be eligible to file an Elmiron lawsuit. Several individuals have already done so, with more being filed every month.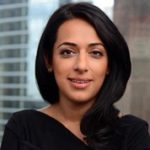 Exclusively focused on representing plaintiffs—especially in mass tort litigation—Roopal Luhana prides herself on providing unsurpassed professional legal services in pursuit of the specific goals of her clients and their families. While she handles complex cases nationwide on behalf of consumers, Ms. Luhana resides with her family in Brooklyn, New York.