In June 2020, Janssen Pharmaceuticals changed the warnings on the product label for the U.S. versions of interstitial cystitis (IC) drug Elmiron (pentosan polysulfate sodium or PPS). The new warnings alerted doctors and patients to the potential risk of vision damage.
Many American consumers, however, did now know the fact that Janssen had made similar changes to Elmiron drugs sold in Canada back in October 2019. Yet, the company waited before providing U.S. consumers with the same warnings.
Recently, Health Canada announced additional warnings for the drug, indicating that patients with a history of maculopathy (conditions affecting the macula of the eye) shouldn't use it.
Elmiron on the Market for Decades Before Vision Changes Discovered
The FDA approved Elmiron for the treatment of IC in 1996. It is the only drug specifically approved for the treatment of this painful bladder condition and requires that patients continue taking it indefinitely to experience relief.
When the drug first came onto the market, it had few safety warnings and no warnings concerning vision damage. Thousands of patients have been using it for years, many for decades, without any knowledge of the potential vision risks.
It wasn't until 2018 that studies indicated that Elmiron may have the potential to damage the retina of the eye—the thin layer of tissue responsible for absorbing light and transmitting nerve signals to the brain. In the spring of 2018, Dr. Neiraj Jain and colleagues alerted doctors to unhealthy vision changes they were seeing among their patients taking Elmiron.
Other studies followed, which showed the same results—patients taking Elmiron seemed to have a higher risk of suffering pigmentary maculopathy, a condition in which excess capillaries or pigmented spots developed over the macula, damaging vision. In a 2019 study, for instance, researchers found that patients taking pentosan for seven years or longer were at an increased risk of having maculopathy.
Canada Warns Doctors Not to Prescribe Elmiron to Patients with Previous Eye Problems
It was only when certain government regulators and consumer advocacy groups put pressure on Janssen Pharmaceuticals that the manufacturer made any label changes. The European Medicines Agency (EMA) demanded changes to the Elmiron label in the summer of 2019, and Health Canada required similar changes in October 2019. Manufacturer Janssen Pharmaceuticals followed those recommendations and made those changes, but left United States users in the dark.
Finally, perhaps as a result of mounting evidence linking Elmiron to vision damage, the company added a new warning for patients, indicating that pigmentary maculopathy had been identified with long-term use of Elmiron. The FDA approved the changes on June 16, 2020.
Then on December 15, 2020, Health Canada issued a letter to healthcare professionals, alerting them to the fact that the Canadian Product Monograph for Elmiron had been updated to include a new contraindication: "Elmiron is now contraindicated in patients with a personal history of any macular pathology." The agency advised healthcare professionals to:
assess the benefits and risks with their patients before initiating treatment with Elmiron and periodically thereafter
obtain detailed ophthalmologic history in all patients before starting treatment with Elmiron
perform baseline and regular retinal examinations for early detection of macular pathology
counsel patients to report changes in vision such as difficulty reading, slow adjustment to low or reduced light, blurred vision, and wavy vision
Vision changes associated with Elmiron may be irreversible, and recent studies have shown that vision changes may continue to progress even after patients stop taking the medication.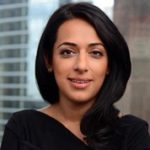 Exclusively focused on representing plaintiffs—especially in mass tort litigation—Roopal Luhana prides herself on providing unsurpassed professional legal services in pursuit of the specific goals of her clients and their families. While she handles complex cases nationwide on behalf of consumers, Ms. Luhana resides with her family in Brooklyn, New York.