The FDA approved the anti-coagulant Xarelto (rivaroxaban) to reduce the risk of blood clots in patients going through knee and hip replacement surgery in 2011, and then later to reduce the risk of stroke in patients with non-valvular atrial fibrillation.
Within just a year of being on the market, however, Xarelto was linked with hundreds of reports of adverse events, including the development of blood clots, pulmonary embolism, and excessive bleeding. Now, in new clinical guidelines, doctors warn that patients with serious kidney problems should not take the drug, because of risks of blood clots, stroke, and serious bleeding.
Medical Groups Recommend Patients with Severe Kidney Disease Avoid Xarelto
The American College of Cardiology and the American Heart Association, in collaboration with the Society of Thoracic Surgeons, developed treatment guidelines for the management of anticoagulation in patients with non-valvular atrial fibrillation. This is a condition in which the heart beats too fast, too slow, or irregularly. This increases risk of blood clots, heart attack, and stroke, so doctors typically manage the condition by prescribing drugs that reduce the risk of clots.
These medical groups recommended that when patients have chronic kidney disease (CKD), "warfarin should be used" in those receiving hemodialysis, or who have significant signs of kidney failure. They added that rivaroxaban (Xarelto) or other similar anticoagulants "may be considered for moderate to severe CKD," but that these drugs "should not be used in patients with end-stage CKD."
According to an earlier 2012 study, CKD is a pandemic public health problem, affecting over 500 million people worldwide. These patients have a higher risk of blood clotting events, and thus require treatment, but doctors have to be careful because these patients are also at risk of bleeding complications. Researchers noted in this study that Xarelto was not recommended in patients with stage 5 CKD.
The problem is that when the kidneys aren't functioning correctly, they are not able to process and flush out the drugs normally. This can result in too much of the drug in the body, increasing risk of bleeding.
Xarelto Manufacturers Fail to Warn About Health Risks
Any drug that interferes with the blood's ability to clot has a potential risk of causing excessive bleeding. The question is whether Xarelto increases that risk more than warfarin, the leading anticoagulant for decades.
When manufacturers Janssen Pharmaceuticals and Bayer AG released Xarelto onto the market in 2011, they advertised it as a more convenient alternative to warfarin, since it came in a once-daily dose and didn't require blood monitoring. In a 2015 study, however, scientists showed that in many patients taking Xarelto, including Japanese patients, blood monitoring would have been helpful in detecting those patients at risk of excessive bleeding.
Manufacturers also failed to warn doctors and patients that Xarelto had no readily available antidote to excessive bleeding. Whereas patients taking warfarin could be treated with injections of vitamin K, there was no similar solution for patients taking Xarelto, making bleeding events much more dangerous.
Xarelto Lawsuits Pending in Louisiana
Current warnings on Xarelto indicate that patients with kidney problems should not take Xarelto. Plaintiffs who have filed Xarelto lawsuits, however, claim that the manufacturers failed to provide adequate warnings about other risks, such as gastrointestinal bleeding and the lack of an antidote.
All federal Xarelto lawsuits were consolidated into the Eastern District of Louisiana in December 2014.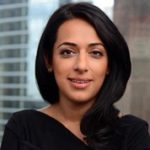 Exclusively focused on representing plaintiffs—especially in mass tort litigation—Roopal Luhana prides herself on providing unsurpassed professional legal services in pursuit of the specific goals of her clients and their families. While she handles complex cases nationwide on behalf of consumers, Ms. Luhana resides with her family in Brooklyn, New York.