A new report by the independent, public-interest news organization ProPublica indicates that manufacturers spent more on physician payments for Xarelto than any other drug in 2015.
Payments were for things such as promotional speaking, consulting, meals, travel, gifts and royalties, but not for research. ProPublica has shown in past studies that doctors receiving payments from manufacturers tend to prescribe more brand-name drugs than those who don't.
Payments to Physicians Influence Prescriptions
Pharmaceutical and medical device companies are required by law to released details of payments to doctors and U.S. teaching hospitals for things like promotional talks, travel, etc. ProPublica gathers this information and provides an analysis each year.
Companies on the whole made about $2 billion in general payments to over 600,000 physicians in 2014 and 2015, in addition to an additional $600 million a year to teaching hospitals. While Xarelto was the drug for which companies spent the most to physicians in 2015, other top-five drugs included the rheumatoid arthritis drug Humira, the diabetes drug Invokana, the hepatitis C drug Viekira and the blood thinner Eliquis.
In addition to ProPublica's studies showing that paid doctors prescribe the corresponding drug more often, other studies have come up with similar findings.
Studies Show Doctors May be Influenced by Company Spending
In 2016, for example, researchers at Harvard Medical School found that medical industry payments to physicians in Massachusetts were associated with higher rates of prescribing brand-name high-cholesterol drugs. For every $1,000 a doctor received, his rate of prescribing the brand-named drug increased by 0.1 percent.
Lead study author Dr. James S. Yeh noted that doctors should be objective about their prescriptions, "rather than doing something because there is financial gain, whether it be subconscious or conscious."
Another 2016 study showed similar results. Researchers analyzed payments from August 1, 2013 through December 31, 2013, as well as the prescribing data for individual physicians for four classes of drugs: statins, beta-blockers, ACE inhibitors, and antidepressants. They found a total of nearly 280,000 physicians received over 63,000 payments associated with these drugs. Results showed the following:
Physicians who received a single meal promoting the drug of interest had higher rates of prescribing that drug over others.
Receipt of additional meals costing more than $20 was associated with higher relative prescribing rates.
Researchers concluded: "Receipt of industry-sponsored meals was associated with an increased rate of prescribing the brand-name medication that was being promoted." Dr. R. Adams Dudley, one of the study authors, noted that they were surprised that it "took so little of a signal and such a low value meal" to change a doctor's thinking.
Plaintiffs Claim Xarelto Manufacturers Downplayed Risks
Over 11,000 Xarelto lawsuits are currently pending in courts throughout the U.S. Plaintiffs are likely to use the information provided by ProPublica and others to support their assertion that drug makers overplayed the benefits of the drug while downplaying the potential side effects.
Considered a new-generation blood thinner, Xarelto is often prescribed now in place of warfarin, the leading anticoagulant for decades, because it comes in a convenient once-a-day dose and doesn't require blood monitoring. Independent studies, however, have indicated that it would have been better, particularly for the elderly and some other populations, if blood monitoring had been done in patients, to help identify those that were more at risk for excessive bleeding.
Plaintiffs claim the drug maker rushed the product to market before making sure that it was safe.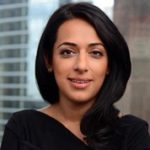 Exclusively focused on representing plaintiffs—especially in mass tort litigation—Roopal Luhana prides herself on providing unsurpassed professional legal services in pursuit of the specific goals of her clients and their families. While she handles complex cases nationwide on behalf of consumers, Ms. Luhana resides with her family in Brooklyn, New York.