The most recent status conference concerning the Xarelto MDL, currently proceeding in the Eastern District of Louisiana, took place on April 1, 2015. The U.S. Judicial Panel on Multidistrict Litigation (JPML) established the MDL in December 2014.
According to minutes from the meeting, both the plaintiffs and the defendants are working toward coordination between the established MDL and state court actions, which includes a Xarelto mass tort in Pennsylvania.
More Than 300 Xarelto Lawsuits Proceeding in MDL
This early in the proceedings, the parties are still busy completing forms, discussing software for fact sheets, creating and reviewing various orders (preservation order, document production protocol order, protective order, etc.), and establishing a "science day" where the medical facts of Xarelto will be explained and explored. The next status conference is scheduled for May 13, 2015.
At last count, more than 300 Xarelto lawsuits had been filed in the MDL. An additional 170 or so were pending in the Pennsylvania mass tort, which was established in January 2015 by Philadelphia Court of Common Pleas Administrative Judge Kevin Dougherty.
In most all cases, plaintiffs claim that after taking Xarelto, they suffered serious side effects, including uncontrollable bleeding. Some lawsuits have been filed by the families of victims who died due to Xarelto bleeding.
Xarelto Advertised as "More Convenient"
The FDA approved Xarelto for reducing the risk of blood clots in those going through hip and knee replacement surgery in 2011, and later that same year to reduce the risk of stroke in patients with non-valvular atrial fibrillation. They added approval for the treatment of deep vein thrombosis and pulmonary embolism in 2012.
Xarelto is one of the so-called "new generation" anticoagulants, along with Pradaxa, which was approved in 2010. Both were advertised as alternatives to warfarin, the leading blood thinner for decades, because they didn't require dietary changes or regular blood monitoring.
Later studies questioned this logic for Xarelto, as it was discovered that Japanese patients and those with kidney problems could have benefitted from blood monitoring. It would have indicated which ones were at risk of uncontrolled bleeding.
The Institute for Safe Medication Practices also noted in its QuarterWatch publication for the first quarter of 2012, that even during the FDA's approval process, reviewers raised concerns about the once-a-day dosing of Xarelto, saying that the drugs' "peaks and troughs" could be eliminated with twice-a-day dosing.
Once it was on the market, Xarelto was linked to serious side effects, including gastrointestinal bleeding that led to hospitalization and in some cases, death. In the year leading up to June 30, 2012, over 1,000 cases were reported to the FDA, including 65 deaths. In the first quarter of 2013, the number of adverse events linked to Xarelto overtook those of Pradaxa.
Companies Failed to Provide Adequate Warnings
Plaintiffs who are involved in Xarelto litigation claim the manufacturers, Janssen Pharmaceuticals and Bayer, exaggerated the benefits of the drug when advertising it to consumers, while downplaying the potential risks.
They add that the companies failed to provide adequate warnings about the dangers associated with Xarelto, including the fact that there was no readily available antidote for excessive bleeding. Whereas doctors can stop bleeding caused by warfarin with injections of vitamin K, they have no similar solution for Xarelto bleeding. Patients suffering such bleeding have a higher risk of lasting injury and death.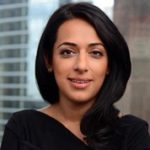 Exclusively focused on representing plaintiffs—especially in mass tort litigation—Roopal Luhana prides herself on providing unsurpassed professional legal services in pursuit of the specific goals of her clients and their families. While she handles complex cases nationwide on behalf of consumers, Ms. Luhana resides with her family in Brooklyn, New York.