A Louisiana man has filed a new Xarelto lawsuit on behalf of his spouse, who died after taking the blood-thinning drug. He filed his case in the U.S. District Court for the Eastern District of Louisiana, joining the current Xarelto Multi-District Litigation (MDL) that was formed in December 2014. The court is currently presiding over more than 15,000 cases brought against manufacturers Janssen Pharmaceuticals, parent company Johnson & Johnson (J&J), and Bayer AG.
The plaintiff blames Xarelto for his wife's death, and seeks in excess of $75,000 in damages.
Woman Takes Xarelto, Suffers Brain Hemorrhage
According to the complaint, the plaintiff's wife started taking Xarelto in August 2015. Then, on January 6, 2016, she suffered from an intercranial hemorrhage, or bleeding in the brain. She was admitted to the hospital where she had to undergo surgery and was hospitalized for an extended hospital stay.
On June 13, 2016, the plaintiff's wife passed away. He blames Xarelto for her death, claiming that as a result of the dangerous drug, she experienced serious injuries that she was unable to recover from.
The plaintiff brings counts of design defect, stating that the drug is not safe for its intended purpose, as well as inadequate warning, stating that the manufacturers failed to adequately warn patients and their doctors about the dangerous risks associated with their drug. He also asserts claims of fraud, breach of warranties, loss of consortium, and brings a survival action.
Manufacturers Over-Promoted Xarelto
The FDA first approved Xarelto (rivaroxaban) in 2011 to prevent blood clots in patients going through knee and hip replacement surgery. They later approved it for reducing the risk of stroke in patients with non-valvular atrial fibrillation, to treat deep vein thrombosis (DVT) and pulmonary embolism (PE), and to reduce the recurrence of both.
Xarelto is a "new-generation" anticoagulants that was heavily marketed as a better alternative to Warfarin, the leading blood-thinning drug for decades. Manufacturers claimed that taking Xarelto was more convenient than Warfarin because it didn't require blood monitoring and came in a simple once-a-day dose.
The plaintiff in this case claims that the manufacturers over-promoted Xarelto, spending at least $11 million in 2013 on advertising, which resulted in the drug being the number one pharmaceutical product advertised in professional health journals that year. By the end of 2013, doctors had written around 1 million Xarelto prescriptions doctors.
The plaintiff further claims that the manufacturers failed to mention in their advertising that some populations, including the elderly, could have benefitted from blood monitoring.  Studies have shown that patients taking Xarelto have dangerous peaks and valleys in the drug's activity after taking the drug.  This could have been identified with regular blood monitoring.
They also failed to disclose to patients that there is no way to reverse the effects of the drug. That means that if someone experiences excessive bleeding, doctors have no way to stop it. They simply have to wait until the drug clears from the body, which makes the situation extremely dangerous for the patient if they suffer a bleed due to the drug. Patients taking Warfarin, on the other hand, can be treated with vitamin K injections, which allow the blood to start clotting again.
Plaintiff Blames Manufacturer, Not Doctor
The plaintiff doesn't blame his wife's doctor for prescribing Xarelto. Instead, he notes that prior to prescribing Xarelto, the decedent's physician received promotional materials for the drug from sales representatives that promoted Xarelto as just as effective as Warfarin, and more convenient. The representatives also allegedly failed to warn the doctor that bleeding events were irreversible.
The plaintiff notes that in the year leading up to June 30, 2012, there were 1,080 Xarelto-associated adverse events filed with the FDA, including at least 65 deaths. At the end of that fiscal year, a total of 2,081 new reports were filed, including 151 deaths, compared to only 56 deaths associated with Warfarin.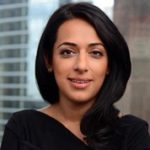 Exclusively focused on representing plaintiffs—especially in mass tort litigation—Roopal Luhana prides herself on providing unsurpassed professional legal services in pursuit of the specific goals of her clients and their families. While she handles complex cases nationwide on behalf of consumers, Ms. Luhana resides with her family in Brooklyn, New York.