Two new studies have raised additional concerns about Xarelto (rivaroxaban) excessive bleeding events. Both link the anticoagulant drug to serious risks of side effects that could result in hospitalization and even death.
Xarelto was approved by the FDA in 2011 to reduce the risk of blood clots following knee or hip replacement surgery. It was later also approved to help reduce the risk of stroke in patients with non-valvular atrial fibrillation, and to treat deep vein thrombosis (DVT) and pulmonary embolism.
Within just a year of being on the market, however, the drug was linked with hundreds of adverse events, with patients suffering from blood clots, pulmonary embolisms, and more.
Doctors Report Xarelto Caused Eye Bleeding
In the first study, Doctors Judy H. Hun and John C. Hwang reported that three patients developed "spontaneous vitreous hemorrhage" or "eye bleeding" after starting Xarelto. Specifically, the bleeding occurred between the lens and retina of the eye. All three patients were also taking another blood thinning medication at the time.
The doctors noted that the drug is "increasingly prescribed as a replacement for warfarin sodium in the management of atrial fibrillation," but that it may be associated with eye bleeding. They added that the risk may be especially elevated when patients are switched from another blood thinner to Xarelto.
Researchers Examine Xarelto Gastrointestinal Bleeding
In the second study, researchers compared the "real world safety" of both Xarelto and Pradaxa (dabigatran)¬—a similar drug to Xarelto—with warfarin, the leading anticoagulant for decades. They examined data from a large administrative database of commercially insured people in the U.S. from October 1, 2010 to March 31, 2012.
Participants had filled a prescription for one of the three drugs during the study period, and were 18 years or older. The final sample of just over 46,000 patients included 4,907 using Pradaxa, 1,649 using Xarelto, and 39,607 using warfarin.
When examining the results, the researchers wrote that though rates of gastrointestinal bleeding seemed to be similar among all three drugs, "we cannot rule out as much as a 50% increase in the risk of gastrointestinal bleeding with dabigatran compared with warfarin or a more than twofold higher risk of bleeding with rivaroxaban compared with warfarin."
Other Studies Recommend Blood Monitoring for Japanese and Elderly Patients
Other studies have raised concerns about Xarelto in particular populations, such as the elderly and Japanese patients. In 2015, for example, 29 out of 46 Japanese patients who took Xarelto for the first time were more at risk for bleeding. A second 2015 study showed a higher risk in those over the age of 75.
Researchers concluded that these vulnerable groups would benefit from regular blood monitoring while taking Xarelto. The manufacturers, however, have promoted Xarelto as a more "convenient" option to warfarin, in that it doesn't require regular blood monitoring.
Currently, about 500 Xarelto lawsuits are pending in consolidated federal and state litigation.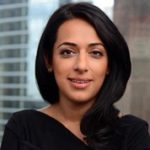 Exclusively focused on representing plaintiffs—especially in mass tort litigation—Roopal Luhana prides herself on providing unsurpassed professional legal services in pursuit of the specific goals of her clients and their families. While she handles complex cases nationwide on behalf of consumers, Ms. Luhana resides with her family in Brooklyn, New York.