For several years now, anticoagulant drugs Pradaxa and Xarelto have been linked with serious bleeding events, some of which have caused hospitalizations and even death. The courts have been busy processing lawsuits filed by injured plaintiffs who claim manufacturers overstated the benefits of these medications while downplaying the serious side effects.
Both Pradaxa and Xarelto were marketed as being more convenient options to warfarin, the leading anticoagulant for decades, because they allegedly worked just as effectively in reducing stroke and other risks of blood clots, but required no blood monitoring or dietary adjustments. A new study, however, suggests that these newer drugs may be more dangerous than older ones—directly contradicting the manufacturers' messages about the products.
Study Suggests Bleeding More Likely with Xarelto
On April 24, 2015, the British Medical Journal published a new study by researchers from Johns Hopkins Bloomberg School of Public Health, George Washington University, and Johns Hopkins Medicine in Baltimore.
Researchers examined a large administrative database of commercially insured people in the U.S. from October 1, 2010 through March 31, 2012. They were looking for those who had a prescription for warfarin, dabigatran (Pradaxa), or rivaroxaban (Xarelto) and who were 18 years or older. In the end, from the final study sample of 46,163 patients, 4,907 were on Pradaxa, 1,649 were on Xarelto, and 39,607 were on warfarin." (The lower number for Xarelto was likely because the drug wasn't FDA-approved until July 2011.)
Results showed the following:
• Patients taking Xarelto had a risk for gastrointestinal bleeding that was twice as high as patients taking warfarin.
• Patients taking Pradaxa had as much as a 50 percent increase in the risk of gastrointestinal bleeding.
Researchers concluded: "Although rates of gastrointestinal bleeding seem to be similar in this commercially insured sample of adults in the United States, we cannot rule out as much as a 50% increase in the risk of gastrointestinal bleeding with dabigatran compared with warfarin or a more than twofold higher risk of bleeding with rivaroxaban compared with warfarin."
Other Studies Show Similar Risks of GI Bleeding
This isn't the first time researchers have suggested that Xarelto may lead to more gastrointestinal bleeds. In 2012, a new analysis of data from one of the early clinical trials on the drug (ROCKET-AF) also found that risk of gastrointestinal (GI) bleeding events occurred more frequently in patients receiving rivaroxaban than warfarin.
"Both major and non-major, clinically relevant GI bleeding were more common in patients with AF [atrial fibrillation] taking rivaroxaban than warfarin."
A 2013 study found similar results, reporting that in a pooled analysis of randomized controlled trials, patients receiving "newer" oral anticoagulants like Pradaxa and Xarelto were more at risk for GI bleeding than patients on standard care.
Plaintiffs who have filed Xarelto lawsuits claim the manufacturers should have done more to warn patients and doctors of the risks, and should have conducted more studies on the drug to be sure that the once-a-day convenient dosing was truly advisable for everyone.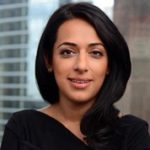 Exclusively focused on representing plaintiffs—especially in mass tort litigation—Roopal Luhana prides herself on providing unsurpassed professional legal services in pursuit of the specific goals of her clients and their families. While she handles complex cases nationwide on behalf of consumers, Ms. Luhana resides with her family in Brooklyn, New York.