The newer-generation anticoagulant Xarelto (rivaroxaban) has ended up in the news lately because of its connection to serious side effects like gastrointestinal bleeding, brain hemorrhaging, blood clots, and stroke.
A recent study, however, has now raised additional concerns that Xarelto may be dangerous when taken by pregnant women. Results showed evidence that the drug crosses the human placenta, where it could potentially affect the unborn child.
Study Finds Xarelto Crosses the Placenta
For the study, researchers from The Motherisk Program at the Hospital for Sick Children in Toronto used an ex-vivo placenta perfusion model, adding 250 ng/mL of rivaroxaban to the maternal or fetal circulation. They then measured concentrations of the drug using liquid chromatography-tandem mass spectrometry.
Results showed that "there was rapid transfer of rivaroxaban across the human placenta in both the maternal-to-fetal and fetal-to-maternal directions" after three hours. The concentrations of the drug remained relatively constant.
Researchers concluded that "rivaroxaban rapidly crosses the placental barrier via passive diffusion." They added that since the drug is "highly bound" to blood proteins, the amount of unbound drug that may reach the actual fetus is "likely much lower." They recommended additional safety studies be completed before administering Xarelto to pregnant women.
Xarelto Effects Irreversible
Currently, Xarelto pregnancy warnings advise women of reproductive age who require blood thinning medications to discuss with their doctors any plans for having a family. They note that there are no data on the drug in human pregnancy, and advise patients to use it "with caution in pregnancy because of the potential for pregnancy-related hemorrhage and/or emergent delivery with an anticoagulant that is not reversible."
Indeed, this irreversibility of Xarelto's blood-thinning effects has been at issue in litigation, with plaintiffs noting that the manufacturers Janssen Pharmaceuticals and Bayer AG failed to warn that Xarelto has no readily available antidote. Unlike warfarin, the leading anticoagulant for decades, which can be counteracted with injections of vitamin K, rivaroxaban has no such solution, making bleeding events much more dangerous and potentially deadly.
Because so many patients have filed complaints relating to their injuries caused by Xarelto, the U.S. Judicial Panel on Multidistrict Litigation (JPML) consolidated all federal cases into one court in the Eastern District of Louisiana in December 2014. Currently, over 500 cases are pending in the MDL and the mass tort proceeding in Pennsylvania.
Xarelto Not Recommended in Pregnant Women
The FDA classifies Xarelto as pregnancy category C, which means that animal studies have shown the drug to have adverse effects on the fetus. So far, we have no well-controlled studies in humans, though this new study concerning the drug's ability to cross the placenta raises additional concerns. Though the current drug warnings note that "potential benefits may warrant use of the drug in pregnant women despite potential risks," this study suggests that the drug may be best limited only in women using adequate methods of contraception.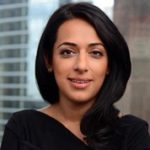 Exclusively focused on representing plaintiffs—especially in mass tort litigation—Roopal Luhana prides herself on providing unsurpassed professional legal services in pursuit of the specific goals of her clients and their families. While she handles complex cases nationwide on behalf of consumers, Ms. Luhana resides with her family in Brooklyn, New York.