Over 400 Risperdal lawsuits have been filed against drug maker Janssen Pharmaceuticals and parent company, Johnson & Johnson (J&J). Over 100 of those involve claims of "gynecomastia," or abnormal breast enlargement in males.
How is this antipsychotic drug tied to gynecomastia?
Risperidone Prescribed Off-Label to Young People
The FDA approved Risperdal (risperidone) in 1993. At the time it was given clearance to be used in patients with manic or mixed delusional episodes, such as those that occur with schizophrenia. It was not approved for use in children or adolescents until 2007—and then only for the treatment of schizophrenia and bipolar disorder. In fact, in 2001, the FDA required J&J to change the drug label to include information stating the safety and effectiveness of the drug in children had not yet been established.
Still, many children received so-called "off-label" prescriptions prior to that date. According to a report in the New York Times, between 1993 and 2008, more than 1,200 children had suffered serious complications in connection with taking the drug, including death.
Studies Tie Risperdal to Hormonal Imbalances
In 2006, researchers conducted a small study on 10 psychotic adolescents, all treated with risperidone. A total of three of these patients suffered from gynecomastia, and two of the female patients experienced galactorrhea, or milk discharge from the breasts. The researchers noted that the levels of "prolactin" in the blood—a hormone produced by the pituitary gland that stimulates breast development and milk production—increased in all five of these patients, as well as in three others.
"Thus," the researchers wrote, "risperidone administered to adolescents at doses commonly used for the treatment of psychotic symptoms can strongly increase prolactin levels, with clinical consequences such as gynecomastia and/or galactorrhea." They further advised caution when administering this drug to children and teens.
Other Studies Confirm the Risperidone-Prolactin Connection
A study published in December that same year (2006) confirmed the results, but further clarified exactly what was causing the rise in prolactin levels. According to the study author, out of 20 patients with psychotic disorders who were taking risperidone, 85 percent experienced elevated levels of prolactin. Scientists pinpointed "9-hydroxyrisperidone" as being the culprit—the active metabolite in the drug.
That same year, Swedish researchers looked into the connection between risperidone and prolactin. They observed 128 men and 90 women who were all initially treated with the drug, and followed them for five years. At the beginning of the study, prolactin levels were five times higher than normal in the women, and three times higher than normal in the men. Things like sex, current age, and the age of onset for psychosis did not affect the results. They did find that over time, the effect somewhat subsided.
Gynecomastia Traumatic for Boys
Men who have brought Risperdal lawsuits against J&J often talk about the trauma of suffering from gynecomastia as young men or boys. According to a recent study by researchers at Boston Children's Hospital, even mild gynecomastia can have adverse psychological effects, impacting self-esteem and other areas of mental and emotional health. In the study, patients with the disorder had lower quality-of-life scores, general health, social functioning and mental health.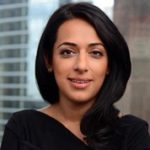 Exclusively focused on representing plaintiffs—especially in mass tort litigation—Roopal Luhana prides herself on providing unsurpassed professional legal services in pursuit of the specific goals of her clients and their families. While she handles complex cases nationwide on behalf of consumers, Ms. Luhana resides with her family in Brooklyn, New York.