Risperdal, manufactured by Johnson & Johnson and its Janssen Pharmaceuticals subsidiary was approved for use by the FDA in 1993 to treat schizophrenia.  Since then it was approved for use in 2003 for bipolar disorder, in 2006 for irritability in children and teenagers with autism, in 2007 for schizophrenia in children aged 13-17 and bipolar disorder in children aged 10-17.
A study in 2006 found that adolescents who were prescribed Risperdal showed an increase in "prolactin levels," which can lead to gynecomastia and/or galactorrhea (enlarged breasts).
Prolactin Levels & Gynecomastia
Pregnant women typically have high levels of prolactin which encourages milk production in breasts, but certain medications can also cause prolactin levels to rise.  Males with abnormal nipple discharge should consult their physician for a prolactin test.  In more serious cases, higher prolactin levels in men are caused by a pituitary gland problem, such as a tumor, called prolactinoma.
Risperdal has been shown to increase prolactin levels in children, teenagers and in adults.
Gynecomastia is the growth of breast tissue and is a result of an imbalance of hormone levels.  It can also be caused by certain medications.  Symptoms of gynecomastia include pain or tenderness of the breast area, nipple discharge and swollen breast tissue.  Galactorrhea is a nipple discharge that is unrelated to milk production that comes with breast feeding.
Treatment for Gynecomastia in Male Patients
In some patients who develop gynecomastia with the use of Risperdal, symptoms will go away when they discontinue the use of the drug.  Typically, the most effective way to correct the problem is through surgery to remove the extra tissue that developed.  It is important to note that not all patients taking Risperdal will develop gynecomastia.  Always speak with your doctor before stopping or starting any medication.
If you are suffering from the development of breast tissue after taking Rispderal and want the problem corrected you need to consult your physician.  He or she will be able to decide the best treatment for you.  You may also be entitled to compensation and a Risperdal attorney can help.
Risperdal Parent Company, Johnson & Johnson, to Pay $2.2 Billion
Johnson & Johnson will pay one of the largest health care fraud settlements in U.S. history.  This comes after allegations surrounding Risperdal, Invega, and Natrecor.  Janssen Pharmaceuticals, a subsidiary of Johnson & Johnson, is accused of promoting the drug for off-label uses.  Janssen allegedly promoted Risperdal for use in children and adults with mental disabilities, allegedly knowing that the drug increased the risk of prolactin, which could lead to breast development.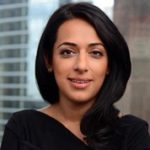 Exclusively focused on representing plaintiffs—especially in mass tort litigation—Roopal Luhana prides herself on providing unsurpassed professional legal services in pursuit of the specific goals of her clients and their families. While she handles complex cases nationwide on behalf of consumers, Ms. Luhana resides with her family in Brooklyn, New York.