One of the most common potential side effects of the anti-psychotic Risperdal (risperidone) is weight gain. According to a report by CNN, dramatic weight gain occurs in as many as 30 percent of patients who take drugs like Risperdal. The medications can also increase risk of diabetes, or exacerbate pre-existing diabetes in patients.
Added pounds may mask other difficult side effects, including gynecomastia—abnormal breast growth in boys and young men. Risperdal increases levels of prolactin in the blood, suppressing male hormones. Patients who suffered weight gain side effects may have also suffered from gynecomastia without realizing it.
Risperdal Linked to Weight Gain
A number of studies have linked anti-psychotic medications and weight gain. Research published in 2010 reported: "Weight gain is a common adverse effect of using anti-psychotic medications, and can be rapid and difficult to control." Researchers added that the dose didn't seem to matter, as long as it was within the normal range that doctors prescribe.
An earlier 2009 study found that after only 10–11 weeks of treatment with drugs like Risperdal, young patients aged 4 to 19 years added 8 to 15 percent to their weight—an average of one to one-and-a-half pounds a week. Total cholesterol and triglycerides also increased, which is concerning considering their link to heart disease and stroke.
In 2002, Ratzoni and colleagues found that extreme weight gain—an increase of seven percent body weight or greater, occurred in 43 percent of patients taking Risperdal.
Dr. Wayne K. Goodman, chairman of psychiatry at Mount Sinai School of Medicine, told the New York Times, "The degree of weight gain is alarming. The magnitude is stunning."
Risperdal Linked with Gynecomastia
The FDA approved Risperdal in 1993 for the treatment of schizophrenia. It wasn't approved for use in children until 2006, though many doctors used it "off-label" to treat childhood schizophrenia and bipolar disorders.
That same year, however, studies linked Risperdal with increased prolactin levels and potential male breast growth. An earlier study had hinted at the possible side effects, and another in 2008 confirmed the results.
In 2013, researchers from the Boston Children's Hospital found that even mild gynecomastia in young boys had serious psychological effects. Patients scored lower on quality of life assessments in the areas of general health, mental health, self-esteem, and social functioning. Researchers noted that boys who are overweight or obese who also have gynecomastia may be misdiagnosed, and told simply to lose weight, worsening the psychological aspects of the problem.
Plaintiffs Filing Claims Against Johnson & Johnson
Over 100 Risperdal lawsuits have been filed against manufacturer Johnson & Johnson, with most plaintiffs alleging that the defendants failed to provide adequate warnings about the serious side effects. In September 2012, the company agreed to a settlement with a plaintiff who allegedly developed gynecomastia after taking Risperdal when he was between 9 and 14 years old. That same year, the company was ordered to pay $2.2 billion to settle claims about its overpromotion of Risperdal to vulnerable populations.
Several Risperdal lawsuits have been consolidated in the Pennsylvania Court of Common Pleas in Philadelphia.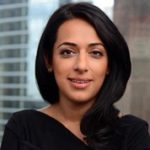 Exclusively focused on representing plaintiffs—especially in mass tort litigation—Roopal Luhana prides herself on providing unsurpassed professional legal services in pursuit of the specific goals of her clients and their families. While she handles complex cases nationwide on behalf of consumers, Ms. Luhana resides with her family in Brooklyn, New York.