In July 2015, GlaxoSmithKline (GSK) filed a motion to consolidate all federal Zofran lawsuits in the U.S. District Court for the Eastern District of Pennsylvania. They noted that the cases had similar common questions of fact, and that consolidation would help establish consistent standards for pre-trial discovery and reduce the risk of inconsistent rulings and duplicative deposition.
Zofran plaintiffs have filed responses supporting consolidation, but requesting different venues, including Arkansas, Massachusetts and Alabama. The U.S. Judicial Panel on Multidistrict Litigation is scheduled to hear arguments on consolidation in October 2015.
Meanwhile, the number of Zofran lawsuits filed around the country continues to grow. Currently there are over 30 pending in 20 different courts, with plaintiffs claiming that GSK failed to warn about the risks of birth defects when the medication was taken by pregnant women.
GSK Reiterates Their Preference for MDL Location
On August 5, 2015, GSK filed a reply to the various plaintiff requests for different MDL locations. They noted that all parties are in agreement when it comes to consolidation, and acknowledged that plaintiffs had proposed other venues and judges across the country.
GSK reiterated their opinion that the Eastern District of Pennsylvania remains the best choice, with Judge Cynthia M. Rufe or Judge Paul S. Diamond managing proceedings. "The Eastern District of Pennsylvania is the natural and most efficient location for these coordinated proceedings," they stated, adding that the plaintiffs have offered "no compelling alternative venue and no consensus as to a suitable alternative."
Indeed, nineteen plaintiffs responded to the motion to transfer, but they did not agree on location, suggesting the following as possibilities:
• Northern District of Alabama
• Northern District of California
• Southern District of Illinois
• Eastern District of Louisiana
• District of Massachusetts
• Northern District of Ohio
The Eastern District of Pennsylvania remains the best option, GSK states, because:
• GSK maintains operations and offices in the Eastern District of Pennsylvania, and a significant portion of the relevant witnesses and documents are located there.
• There is no clear concentration of litigation in any one district, so none of the other locations have an advantage.
• No Zofran lawsuit has advanced beyond the initial stages, so transfer at this point to another court would not be an issue.
• Philadelphia would be easily accessible for all parties and counsel.
• The court is capable of handling a high volume of cases, including a large number of significant MDLs.
Plaintiffs Seek to Hold GSK Liable for Birth Defects
We won't know until later this fall if Zofran lawsuits will be consolidated, and if so, where. In the meantime, plaintiffs continue to file new cases, and GSK expects the number will continue to rise.
The company was fined $3 billion in 2012 for falsely advertising their products, including Zofran. The anti-nausea drug, which has been prescribed "off-label" to help pregnant women battle morning sickness, was never approved by the FDA for this purpose, yet GSK spent millions advertising the drug as a morning sickness solution. They also paid doctors to support and prescribe it as such.
Plaintiffs seek to hold the company liable for birth defects suffered by their children, including limb malformations, cleft lip and palate, and heart defects.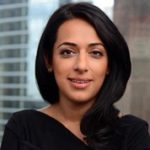 Exclusively focused on representing plaintiffs—especially in mass tort litigation—Roopal Luhana prides herself on providing unsurpassed professional legal services in pursuit of the specific goals of her clients and their families. While she handles complex cases nationwide on behalf of consumers, Ms. Luhana resides with her family in Brooklyn, New York.