A New Jersey couple recently filed a new Zofran lawsuit, claiming that manufacturer GlaxoSmithKline (GSK) is liable for their child's birth defects. This is one of many similar lawsuits pending in federal and state courts across the country.
GSK recently filed a motion requesting consolidation of all federal Zofran lawsuits into the U.S. District Court for the Eastern District of Pennsylvania. Consolidation, they stated, would help avoid duplicative and conflicting rulings and would make pre-trial proceedings more convenient for all parties involved.
Baby Suffers From Severe Case of Club Foot
According to the complaint filed by the New Jersey couple, the mother took Zofran to treat the severe morning sickness she experienced early in her pregnancy. Her case was so difficult that she was hospitalized with symptoms of nausea and dehydration just weeks after conception. She continued to take Zofran for the duration of her pregnancy.
The plaintiff gave birth to a son in September 2011. The boy was diagnosed with a severe case of "clubfoot," which is a congenital birth defect affecting the shape of the foot. In this case, both feet were deformed.
Doctors proceeded to correct the deformities with a number of techniques, including straightening and casting the feet and legs, and fitting the child with a "Mitchell's shoe" on each foot. This is a type of brace meant to keep the foot in the correct position. A metallic bar was also used to connect both feet, to further assist in correcting the defect. The boy also had to go through tendon surgery, in which surgeons attempted to lengthen the Achilles tendon to help better align the feet.
These types of treatments continued through the first several years of the child's life. All caused him to suffer not only discomfort and pain, but sleep difficulties, blisters and sores on his feet, and delayed developmental progress.
Despite all these treatments, the child was unable to learn to walk correctly. His parents claim that because of the defect, he not only suffered numerous uncomfortable and expensive medical treatments, but has also suffered socially because of his inability to walk right. He is now three years old and still has to wear the Mitchell shoes at night. The family now faces the prospect that he will have to undergo additional medical treatments, including a potential tendon transplant.
GSK Fined for Misleading Zofran Advertisements
Zofran was never approved by the FDA for the treatment of morning sickness in pregnant women. Instead, GSK advertised it as an "off-label" treatment to doctors and expectant mothers, even though they had no human studies to back up the drug's safety in this population.
In 2012, GSK paid $3 billion in fines after the Department of Justice determined that they had engaged in illegal marketing activities, some of which included their misleading advertisements of Zofran as a safe and effective treatment for morning sickness. The agreement with the government added that the company had paid illegal remuneration to health care professionals to induce them to promote and prescribe Zofran.
The parents in this Zofran lawsuit bring counts of negligence, fraudulent misrepresentation and concealment, breach of warranties, strict products liability, and failure to warn.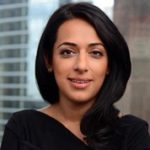 Exclusively focused on representing plaintiffs—especially in mass tort litigation—Roopal Luhana prides herself on providing unsurpassed professional legal services in pursuit of the specific goals of her clients and their families. While she handles complex cases nationwide on behalf of consumers, Ms. Luhana resides with her family in Brooklyn, New York.