Since 2008, when the U.S. Judicial Panel for Multidistrict Litigation (JPML) established the NuvaRing MDL in the Eastern District of Missouri, more than 1,200 plaintiffs have filed claims against manufacturer Merck & Co. and their subsidiary, Organon USA Inc. Plaintiffs claim the companies failed to provide adequate warnings about the health risks, including an increased risk of blood clots and related complications.
Marianne Prather is one of the plaintiffs suing Organon in Missouri. She alleges she suffered a pulmonary embolism after using the NuvaRing contraceptive device. Organon moved for summary judgment on failure-to-warn, implied warranty and negligent design claims, but District Judge Rodney W. Sippel disagreed, denying summary judgment and allowing the case to proceed to trial, which is scheduled to begin on October 21, 2013.
Plaintiff Claims Pulmonary Embolism
Prather filed her case in April 2008. According to court documents, she stated she began using the NuvaRing in September 2003, and after only a few weeks, started to experience side effects, including shortness of breath and leg discomfort. On October 4, 2003, she went to the emergency room, where doctors discovered deep vein thrombosis in her left leg. A CT scan revealed multiple pulmonary emboli—blood clots in the lungs.
Prather claims that the NuvaRing comes with a higher risk of blood clots, deep vein thrombosis, pulmonary embolism, and other blood clot complications than more established types of oral contraceptives. Like many plaintiffs who have filed claims against Organon, she adds that the company failed to warn about these potential complications on the product label or in its advertising materials.
Prather also claims that use of the NuvaRing results in occasional bursts of estrogen that result in a unique increased risk of blood clots.
Judge Agrees with Plaintiff
Organon filed their motion for summary judgment against Prather's claims of negligence and strict liability, stating she had failed to establish a genuine issue of material fact as to the defective manufacturer of the NuvaRing. They further argued that NuvaRing's warnings were adequate, and that Prather had provided no evidence in support of her defective manufacturing claims.
Judge Sippel disagreed, finding that the record presents a genuine issue of material fact, and contains admissible expert testimony regarding the inadequacy of warnings Organon placed on NuvaRing. He did grant Organon's motion for summary judgment as to Prather's manufacturing defect and strict products liability claims, but allowed the rest of the claims, including punitive damages, to continue.
Bellwether Case Soon to Go to Trial
The Prather case will be one of the first bellwether trials to go to court in the NuvaRing MDL. The results will provide clues as to how juries are likely to react to the evidence and testimony throughout the rest of the lawsuits.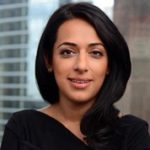 Exclusively focused on representing plaintiffs—especially in mass tort litigation—Roopal Luhana prides herself on providing unsurpassed professional legal services in pursuit of the specific goals of her clients and their families. While she handles complex cases nationwide on behalf of consumers, Ms. Luhana resides with her family in Brooklyn, New York.