It was over two years ago now that the U.S. Judicial Panel on Multidistrict Litigation (JPML) consolidated all federally filed Xarelto lawsuits into one court in the Eastern District of Louisiana.
Now, there are over 13,000 cases pending in that court, with plaintiffs claiming Xarelto manufacturers Janssen Pharmaceuticals and Bayer AG failed to provide adequate warnings about the bleeding risks associated with the anticoagulant drug.
Xarelto MDL Grows Substantially in Two Years
One of the more recent cases filed in the Louisiana court involves an Illinois woman who claims she took Xarelto and then suffered serious injuries including stroke, internal bleeding, and uncontrolled hemorrhages. She claims that the manufacturers failed to warn about the potential harmful side effects, and seeks to recover damages for her medical expenses and other costs.
According to the MDL statistics report issued in November 2016, the Xarelto MDL had pending 13,727 cases. When the MDL was first established in December 2014, there were a total of only 21 cases pending across the country. The first bellwether trial is scheduled to begin in March 2017.
Manufacturers Downplayed Risks When Advertising Xarelto
Xarelto was initially approved in 2011 to reduce the risk of blood clots, deep vein thrombosis (DVT), and pulmonary embolism (PE) following knee and hip replacement surgery. It was later approved to reduce the risk of stroke and blood clots in patients with non-valvular atrial fibrillation, and to prevent the occurrence of blood clots in patients with DVT and PE.
When Xarelto was first released on the market, the manufacturers advertised the drug as being the "first and only once-a-day prescription blood thinner" that was proven to reduce the risk of stroke in patient with AFib not caused by a heart valve problem that didn't require routine blood monitoring.
Whereas patients taking warfarin, the leading anticoagulant for decades, must undergo regular blood monitoring to be sure the dose is correct, patients taking Xarelto were told they didn't have to do that. Instead, they had only to take the drug once a day with their evening meal.
This "easier to use," "one size fits all" drug appealed to both doctors and patients, and prescriptions of Xarelto exploded. About 130,000 prescriptions were written in the first three months of 2012. Yet, the plaintiffs in the Xarelto litigation allege that the defendants failed to warn that in clinical trials, patients taking Xarelto had more gastrointestinal bleeds and needed more transfusions than those taking warfarin.
Xarelto Has No Readily Available Antidote to Uncontrolled Bleeding
Plaintiffs who have filed lawsuits against the makers of Xarelto also note that the defendants failed to adequately warn about the lack of an antidote to reverse uncontrolled bleeding caused by Xarelto. They indicated there was a risk for bleeding, but sidestepped the issue of reversing that bleeding should it occur.
Patients taking warfarin can reverse uncontrolled bleeding with vitamin K injections. There is no such antidote for Xarelto bleeding, making it potentially more dangerous and even deadly. Even recent March 2014 label changes failed to incorporate a black box warning regarding this risk.
Though the first few bellwether trials were initially scheduled to begin in February 2017, the court recently pushed the start date back to March 13, 2017.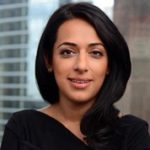 Exclusively focused on representing plaintiffs—especially in mass tort litigation—Roopal Luhana prides herself on providing unsurpassed professional legal services in pursuit of the specific goals of her clients and their families. While she handles complex cases nationwide on behalf of consumers, Ms. Luhana resides with her family in Brooklyn, New York.