For the last few years, testosterone replacement drug manufacturers have been defending thousands of lawsuits filed by plaintiffs who took the drugs and then suffered from cardiovascular and venous thromboembolic events.
Meanwhile, study results on the risks and benefits associated with testosterone replacement therapy (TRT) have been mixed. Some studies demonstrate a high risk of complications, particularly within the first six months of starting a prescription, while others have found no such association.
Now, two new studies add to the mixed results.
Study Finds Testosterone Replacement Increases Plaque Buildup in Arteries
The first study reported on the results of the Testosterone Trials (T Trials), which were conducted at 12 sites across the country with 790 men aged 65 and older. All of the men had low levels of testosterone. Some received testosterone gel applied to the skin on a daily basis, while others received a placebo gel.
Researchers then measured testosterone levels at one, two, three, six, nine and 12 months. They also monitored for development of any prostate or cardiovascular problems. Results of the study showed that in older men with low testosterone, one year of testosterone treatment helped improve bone density and corrected anemia. More specifically, men experienced an increase in bone mineral density and bone strength compared to controls, more in the spine than in the hip. Additionally, 52 percent of men with unexplained anemia and 54 percent of men with anemia from known causes experienced an increase in red blood cell levels.
But the news on the cardiovascular front was not so good. During the study, researchers checked for how the testosterone may affect the buildup of plaque within the artery walls in the heart. Buildup of plaque in these arteries is a clear risk for cardiovascular disease.
Researchers found that plaque volume increased significantly more in the testosterone-treated group compared to the controls. They noted, however, that larger and longer trials are needed to establish the clinical significance of these results.
Second Study Finds No Increase in Heart Attack in Men Taking Testosterone
The second study seemed to show opposing results, as far as cardiovascular risk is concerned. This time, researchers evaluated 44,335 male patients who had been diagnosed with testosterone deficiency between 1999 and 2010. Of these, 8,808 were treated with testosterone replacement therapy. Researchers compared those who received testosterone with those who had never received testosterone.
Results suggested that men who took testosterone drugs had a lower risk of heart attacks and stroke than men who didn't. More specifically, of the men who took the drugs, 10.2 percent had a heart attack or stroke, while only 8.2 percent of the men who didn't take the drugs experienced these events.
Thousands of Plaintiffs Claiming Injuries from Testosterone Replacement Drugs
Meanwhile, plaintiffs continue to bring their claims in court and are armed with a number of studies showing that testosterone does, indeed, increase the risk of cardiovascular and blood-clot related events.
A Plos One study published in 2014, for example, reported that the use of testosterone therapy doubled the risk of men aged 65 and older having a heart attack. Younger men taking some form of testosterone therapy with a family history of heart disease also had three times the risk of suffering from a heart attack.
An earlier study published in JAMA in 2013 also found similar results. Researchers were so concerned that they stopped the study early because of the number of men who were taking testosterone replacement drugs that suffered from adverse cardiovascular events like heart attacks and strokes.
In 2015, the FDA ordered manufacturers to warn about the possibility of heart attack and stroke on their product labels. There are approximately 6,000 testosterone replacement lawsuits pending in federal court, consolidated in the Northern District of Illinois. The trials are scheduled to begin in the latter half of 2017.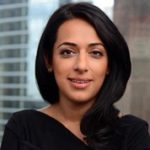 Exclusively focused on representing plaintiffs—especially in mass tort litigation—Roopal Luhana prides herself on providing unsurpassed professional legal services in pursuit of the specific goals of her clients and their families. While she handles complex cases nationwide on behalf of consumers, Ms. Luhana resides with her family in Brooklyn, New York.