Recent studies have suggested that Risperdal (risperidone), a medication prescribed to treat schizophrenia and bipolar disorder, can cause serious side effects, including abnormal breast development in boys and teens (gynecomastia). Over 400 individuals who used Risperdal and then experienced alleged side effects have filed lawsuits against manufacturer Janssen Pharmaceuticals and parent company, Johnson & Johnson (J&J).
Concerned states have also filed criminal and civil claims concerning the marketing of Risperdal. In November 2013, J&J reached a $2.2 billion settlement with the U.S. Justice Department over claims they "improperly promoted" the drug to older adults, children, and people with developmental disabilities.
Recently, J&J negotiated another settlement with the state of Montana. According to Drug Discovery & Development, the settlement totaled $5.9 million.
J&J Downplayed Risks of the Drug
Montana State Attorney General Tim Fox filed the Risperdal lawsuit in 2008. Court documents claimed the drug maker overpromoted the benefits while downplaying the potential risks to vulnerable populations like the elderly, even when they were aware the drug had the potential to cause diabetes and other complications in seniors.
The plaintiffs also claimed that J&J had promoted the drug for use in children, long before the FDA approved any such use in 2006. The company allegedly advertised the medication for other off-label uses, as well.
Money to Support Drug Education Efforts
As part of the settlement, $1.5 million is ordered to go toward a program that will educate students about the risks of prescription-drug addiction, and to add more prescription drug drop-box locations in the state. An additional $1.5 million is slated for the Montana Mental Health Trust to support mental health programs and services. Money has also been earmarked for consumer protection education ($825,275) and to reimburse funds the Department of Public Health and Human Services spent on Risperdal.
This lawsuit was separate from the November case that resulted in the $2.2 billion settlement, as Montana chose to file separately. Similar cases are pending in Kentucky and Mississippi.
J&J maintains its innocence in these proceedings, and has appealed verdicts in both Arkansas and South Carolina. Recently, it won its appeal in Louisiana.
Risperdal Linked with Breast Development
A study published in 2006 found that adolescents treated with Risperdal were more likely to produce more "prolactin," a hormone that stimulates breast development and milk production. A second study published that same year found similar results, with 85 percent of patients showing increased levels of prolactin.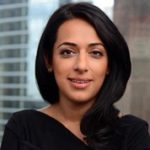 Exclusively focused on representing plaintiffs—especially in mass tort litigation—Roopal Luhana prides herself on providing unsurpassed professional legal services in pursuit of the specific goals of her clients and their families. While she handles complex cases nationwide on behalf of consumers, Ms. Luhana resides with her family in Brooklyn, New York.