Xarelto manufacturer Janssen Pharmaceuticals, a subsidiary of Johnson & Johnson (J&J), has long advertised the new-generation blood thinner as being much more convenient than warfarin, the leading anticoagulant for decades because it doesn't require blood monitoring.
Patients taking warfarin are required to go back to their doctors for regular blood testing to be sure they are taking the right dosage. Too little, and their risk of developing a blood clot goes up; too much, and their risk of excessive bleeding goes up.
Xarelto also presents a risk of excessive bleeding. But manufacturers persuaded doctors and patients that blood monitoring was unnecessary while taking Xarelto and that a convenient once-a-day dosing schedule would work for all patients. Several health experts have questioned this logic and now a new study indicates that one in six Americans taking new-generation blood-thinning medications like Xarelto may not be taking the wrong dosage, potentially setting them up for serious bleeding and related injuries.
Study Indicates Many Patients Receiving the Wrong Dosage
For the study, researchers from the Mayo Clinic examined a large U.S. administrative database and identified nearly 15,000 patients who were taking new-generation blood-thinners like apixaban (Eliquis), dabigatran (Pradaxa), or rivaroxaban (Xarelto). They then tracked the dosage the patients were taking, and whether or not they had any sort of kidney damage. Kidney malfunction affects how the drug is absorbed and how much is needed to produce the desired effect.
Among those patients who had kidney problems and should have been receiving a lower dosage, 43 percent were potentially overdosed, which was associated with a higher risk of bleeding. Out of those who didn't have any kidney problems, about 13 percent were potentially underdosed, which is associated with a higher risk of stroke.
The researchers concluded that the dosages of these drugs "are often inconsistent with drug labeling".
Lead author Xiaoxi Yao explained that "[w]e conducted this study to highlight the prevalence of inappropriate dosing in routine clinical practice and the associated adverse outcomes." Further "[d]osing errors of these blood-thinning medications in patients with atrial fibrillation are common and have concerning adverse outcomes".
Others Believe Blood Monitoring Helps Reduce Risk of Bleeding
Others have questioned the "one-dose-fits-all" approach that manufacturers have promoted with these drugs. The Institute of Safe Medicine Practices (ISMP) stated in its 2012 QuarterWatch report that studies showed "peaks and troughs that could be eliminated by twice-a-day dosing." These peaks and troughs are measurements of how long it takes the blood to clot—longer peak times indicate less clotting, which may increase the risk of excessive bleeding. Taking the drug just once a day, for example, could increase peak times for part of the day, and then increase "trough" times later in the day.
A 2015 study published in the journal Cardiology showed that the in 29 out of 46 Japanese patients given rivaroxaban for the first time, peak times were significantly longer than expected, which could indicate an increased risk of bleeding. The researchers suggested blood monitoring might be warranted.
Adding to these concern is the fact that these drugs have no readily-available antidote to stop the bleeding once it starts, making the risks more serious than they are with warfarin, for which excessive bleeding can be treated with vitamin K injections.
"These medications need to strike a balance between stroke reduction and risk of bleeding," Yao told Consumer Healthday. "Physicians will also need to regularly follow up with patients on these medications to detect change in kidney function and adapt the dose accordingly."
Xarelto manufacturers are currently defending thousands of lawsuits that have been filed in courts nationwide, in which plaintiffs claim that they failed to provide adequate warnings about the risks of their drug.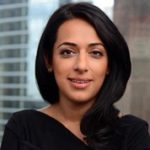 Exclusively focused on representing plaintiffs—especially in mass tort litigation—Roopal Luhana prides herself on providing unsurpassed professional legal services in pursuit of the specific goals of her clients and their families. While she handles complex cases nationwide on behalf of consumers, Ms. Luhana resides with her family in Brooklyn, New York.