In December 2014, all federally filed Xarelto lawsuits were consolidated into one court in the Eastern District of Louisiana. Now, Judge Eldon Fallon, who has been overseeing the proceedings, has selected four cases to serve as the first bellwether cases. These will represent the thousands of other cases currently pending, and will be the first to go to trial in 2017.
In a recent court order, Judge Fallon outlined the schedule for the trials. The first two will take place in Louisiana. The third will be tried in Mississippi, and the last in Texas.
Court Chooses and Schedules First Four Xarelto Bellwether Trials
There are currently over 7,000 cases pending in this litigation. Plaintiff's claim that Xarelto manufacturers Janssen Pharmaceuticals and Bayer AG failed to provide adequate warnings regarding the risk of excess bleeding, particularly gastrointestinal bleeding. They also claim the companies failed to conduct adequate safety studies on the drug before releasing it onto the market in 2011.
The first four cases to go to trial will represent plaintiffs who have suffered gastrointestinal bleeding and those who have suffered brain hemorrhaging. These two types of bleeding events are most commonly alleged in Xarelto lawsuits.
The first case involves a plaintiff who was taking Xarelto to reduce risk of stroke from non-valvular atrial fibrillation, and who suffered gastrointestinal bleeding. The second involves a plaintiff who took the drug for the same reason, but then suffered from brain bleeding. Both of these cases will go to trial in Louisiana.
The third case involves a plaintiff who was taking Xarelto to treat deep vein thrombosis (DVT) and suffered a gastrointestinal bleed. This case will go to trial in Mississippi. The last case involves a plaintiff taking the drug to reduce risk of stroke from atrial fibrillation, and who also suffered gastrointestinal bleeding. That case will be tried in Texas.
Xarelto Linked with Serious Side Effects
Xarelto is often labeled a "newer generation" anticoagulant, because it works differently than warfarin, the leading blood thinner for decades. The manufacturers advertised Xarelto as a superior treatment option to warfarin because it required no dietary restrictions or blood monitoring. They also capitalized on the fact that it came in an easy, convenient once-daily dose.
Plaintiffs allege, however, that Xarelto advertisements overstated its benefits while downplaying the risks. Within just a year of its being on the market, the drug was associated with 346 cases of serious side effects, including pulmonary embolism (blood clot in the lung).
Subsequent studies also questioned the safety of using a once-daily dose. A 2015 study found that Japanese patients, in particular, were vulnerable to "peaks and troughs" with this dosage. That means the drug was more effective at times, and less at other times. During the more effective times, risk of excessive bleeding were higher. Researchers stated that blood monitoring in these cases would be valuable.
Another 2015 study also warned that older patients with atrial fibrillation were at a higher risk of gastrointestinal bleeding when taking Xarelto compared to warfarin.
By the first quarter 2013, Xarelto was linked with 680 reports of injury, including bleeding, stroke, heart attack, and blood clots.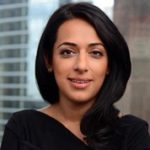 Exclusively focused on representing plaintiffs—especially in mass tort litigation—Roopal Luhana prides herself on providing unsurpassed professional legal services in pursuit of the specific goals of her clients and their families. While she handles complex cases nationwide on behalf of consumers, Ms. Luhana resides with her family in Brooklyn, New York.