On November 29, 2018, the FDA warned about a rare but serious life-threatening risk of stroke and artery rupture in patients taking the multiple sclerosis (MS) drug Lemtrada (alemtuzumab). Since the drug's approval in 2014, a total of 13 patients so far have reported these problems, so the FDA has required the manufacturer to add a black box warning—the most serious type—to their label, alerting doctors and patients to the risk.
The warning also applies to Campath (alemtuzumab under a different brand name), which is used as a cancer treatment for B-cell chronic lymphocytic leukemia (B-CLL). The Campath label will also be updated to include the risks.
Patients Noticing Symptoms of Stroke Should Call for Emergency Help
Most of the patients taking Lemtrada who developed this rare but serious kind of stroke or tears in the artery linings experienced symptoms within one day of starting treatment. One patient reported symptoms that began three days after starting treatment.
Possible symptoms are similar to those occurring with any type of stroke, and may include sudden numbness or weakness in the face, arms and legs (typically on one side of the body); sudden confusion or trouble speaking or understanding speech; vision problems; headache and neck pain; and dizziness or loss of balance.
Patients or their loved ones noticing these symptoms should seek immediate emergency medical care, as these types of stroke are life-threatening.
Lemtrada Linked with Serious Cases of Stroke and Artery Dissection
The 13 cases reported to the FDA identified the following problems:
Ischemic stroke: These occur when the arteries in the brain become narrowed or blocked, and a blood clot forms in one of them, reducing blood supply to the brain.
Hemorrhagic stroke: These occur when a weakened blood vessel leaks into the brain, creating swelling and pressure, or when a brain aneurysm bursts and leaks blood into the brain.
Cervicocephalic arterial dissection: The carotid artery, which supplies blood to the brain, suffers from a tear in the lining. The damaged artery leaks blood, causing a stroke.
The FDA warned physicians to watch patients carefully for symptoms of these issues, noting that the "diagnosis is often complicated because early symptoms such as headache and neck pain are not specific."
Though 13 cases of these types of strokes associated with Lemtrada were reported to the FDA, authorities believe there may be more, as some cases likely went unreported.
About Lemtrada and Campath
Lemtrada received FDA approval in 2014 and is one of many medicines used to treat patients with relapsing forms of MS that don't respond well to other treatments. Because of its safety risks, it is reserved only as an option for patients who have tried at least two other MS medications that didn't work well. The medication is administered through intravenous (IV) infusion and is also linked to other side effects including serious autoimmune problems and certain cancers.
The same medication is sold under the brand name Campath for the treatment of chronic lymphocytic leukemia (CLL). It targets a protein called CD52 on the surface of white blood cells called mature B lymphocytes. In patients with CLL cancer, some of these lymphocytes are abnormal. The drug sticks to the CD52 proteins, targeting them for the immune system to eradicate.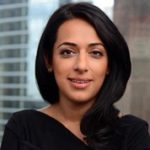 Exclusively focused on representing plaintiffs—especially in mass tort litigation—Roopal Luhana prides herself on providing unsurpassed professional legal services in pursuit of the specific goals of her clients and their families. While she handles complex cases nationwide on behalf of consumers, Ms. Luhana resides with her family in Brooklyn, New York.