On November 11, 2015, a Kansas woman filed a new Zofran lawsuit against manufacturer GlaxoSmithKline (GSK). She blames the company for failing to alert expectant moms to the risks of taking Zofran during pregnancy.
The case was filed in the U.S. District Court for the District of Kansas. All federal cases were recently consolidated in the District of Massachusetts, and it is expected that this case will soon be transferred there was well.
Mother Blames Zofran for Child's Heart Defect
According to her complaint, the woman started taking Zofran during her first trimester to alleviate symptoms of morning sickness. She continued to use the medication as directed through her third trimester. Her child, K.C., was born November 12, 2013.
After the birth, the baby was diagnosed with a congenital heart defect—specifically, an atrial septal defect, which is a "hole" in the wall between the two upper chambers of the heart (called the "atria"). These defects, when large, can cause damage to the heart and lungs, and can lead to complications such as pulmonary hypertension, heart rhythm problems, increased risk of stroke, and even heart failure.
The Plaintiff believes that her child's exposure to Zofran in utero caused the defect, because neither she nor anyone in her family has a history of heart defects. She blames GSK for failing to provide adequate warnings about the risk, saying there's no way her doctors could have been aware of the danger because of the "fraudulent nature of GSK's marketing of Zofran."
GSK Fined for Fraudulent Marketing
In 1991, the FDA approved Zofran for the treatment of severe nausea caused by chemotherapy and radiation treatments. Starting in 1998, however, GSK promoted the drug "off-label" for use in pregnant women experiencing morning sickness. Though doctors can prescribe medications for conditions as they see fit, it is illegal for drug companies to advertise their products for uses other than those approved by the FDA. GSK was eventually fined $3 billion in 2012 for its illegal marketing of Zofran as well as other medications.
Because of GSK's off-label marketing, Zofran became the number-one most prescribed drug for treating morning sickness in the 2000s. Yet as early as 1992, GSK was receiving evidence of reports of birth defects associated with Zofran. By 2000, they had received 32 such reports, and that number climbed to over 200 in subsequent years, with most involving congenital heart defects. Other complications included orofacial defects, intrauterine death, stillbirth, and severe malformations.
Studies Link Zofran with Birth Defects
In a 2006 study, researchers discovered that Zofran was able to cross the placental barrier to affect the fetus. A 2012 study of about 10,000 women showed that drugs like Zofran were associated with a potential increased risk of cleft lip and palate and other neural tube birth defects.
In 2003, Australian researchers reported that Zofran was linked with a small increased risk of a major birth defect with first trimester exposure. And in 2014, researchers found that mothers who took Zofran were at a significant increased risk of giving birth to a child with a cardiovascular defect, and notably, a cardiac septum—"hole in the heart."
The Plaintiff states that GSK was required to describe the potential safety hazards related to Zofran, and that they failed to do so, putting many unborn children at risk. She brings counts of negligence, inadequate warning, design defect, fraudulent misrepresentation, fraudulent concealment, negligent misrepresentation, and breach of warranties. She seeks compensatory and punitive damages in excess of $75,000.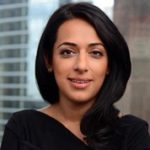 Exclusively focused on representing plaintiffs—especially in mass tort litigation—Roopal Luhana prides herself on providing unsurpassed professional legal services in pursuit of the specific goals of her clients and their families. While she handles complex cases nationwide on behalf of consumers, Ms. Luhana resides with her family in Brooklyn, New York.