The Mirena MDL has been underway since April 8, 2013, when the U.S. Judicial Panel on Multidistrict Litigation consolidated all federal cases into one court in the Southern District of New York. Plaintiffs typically claim that after being implanted with the birth control device, they experienced serious injuries, such as uterine perforation, migration, infections, abscesses, and more.
Now, as the lawsuits move forward, Judge Cathy Seibel, who is overseeing the MDL proceedings, has urged the addition of more female attorneys, noting that the alleged side effects are experienced only by women, and that female counsel would be more likely to understand and be sensitive to the unique facts of these cases.
Concern Over All Male Executive Committee
So far, over 50 Mirena lawsuits are proceeding in New York, with plaintiffs claiming that manufacturer Bayer failed to provide adequate warnings about the risks. At the initial conference for the MDL, held May 17, 2013, four male lawyers asked to be appointed to the executive committee, but Judge Seibel urged them to include at least some women in the leadership ranks.
Prior to the conference, some Mirena lawyers had already expressed their concerns about the MDL leadership, noting that female plaintiffs would benefit from having at least some female attorneys who could relate to their alleged injuries.
Though experience always counts in cases like these, when the product at issue is a contraceptive device used exclusively by women, female counsel may be more likely to understand the pain, damage, and lasting injuries that can result from Mirena migration and perforation of organs.
The lawyers for the plaintiffs intended to meet after the conference to select a steering committee, which is likely to include some female attorneys.
Other Matters Discussed at Conference
In addition to the gender issues in representative counsel, parties discussed other matters at the May 17, 2013 conference. Among these were recommended procedures to bring about the most efficient and just resolution of the Mirena lawsuits, recommendations for a schedule of pretrial activities, and cooperation with the actions proceeding in New Jersey. The next conference is scheduled for July 2, 2013.
FDA Receives Numerous Complaints Associated with Mirena
Approved by the FDA in 2000, Mirena has since been the subject of over 45,000 complaints sent to the FDA concerning side effects. One of the most serious is migration, where the device moves from the initial location to perforate the uterus or other pelvic organs. Though Bayer warns that perforation can occur during implantation, some women claim they experienced it long after implantation—sometimes even months or years later.
In August 2011, for instance, a case report published in the Journal of Emergency Medicine noted that the Mirena can move to other parts of the body, causing potentially serious injury. "The extrauterine migration of an intrauterine device (IUD) can be life threatening and require emergent surgical intervention and treatment," the researchers wrote. The case report added that any women reporting abdominal pain after IUD placement should be checked for potential migration.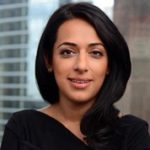 Exclusively focused on representing plaintiffs—especially in mass tort litigation—Roopal Luhana prides herself on providing unsurpassed professional legal services in pursuit of the specific goals of her clients and their families. While she handles complex cases nationwide on behalf of consumers, Ms. Luhana resides with her family in Brooklyn, New York.