The U.S. Judicial Panel on Multidistrict Litigation (JPML) met on October 1, 2015, to hear oral arguments on consolidating all federally filed Zofran lawsuits into one court. Manufacturer GlaxoSmithKline (GSK) filed a motion with the panel on July 6, 2015, requesting consolidation in a multi-district litigation (MDL).
Plaintiffs' submitted responses agreeing with the idea of consolidation, but disagreeing on an appropriate location. GSK wanted the Eastern District of Pennsylvania, noting that it was the most convenient because:
• GSK employs over 1,000 individuals in that area,
• GSK has over 200,000 square feet of office space in Philadelphia, and
• witnesses and documents related to Zofran would likely be located in that district.
Plaintiffs, on the other hand, stated that there were no Zofran lawsuits pending in the Eastern District of Pennsylvania, and that another court already dealing with Zofran lawsuits would be a wiser choice. They suggested other venues, including the District of Massachusetts and the Northern District of Alabama.
JPML Expected to Agree to Consolidation
The JPML is expected to agree to consolidation of Zofran lawsuits, since the cases all share common questions of fact, and consolidation would help increase efficiency in litigation while saving judicial resources.
Plaintiffs claim that GSK failed to provide adequate warnings about Zofran's link to birth defects, and that they aggressively promoted the anti-nausea drug to pregnant women when they did not have FDA-approval to do so. Plaintiffs also claim that GSK never tested Zofran in pregnant women, and misled women into believing it was safe when studies showed that it could increase the risk of heart defects and other types of birth defects.
The JPML heard arguments from both sides in New York on October 1, 2015. Until the panel makes their decision, all Zofran lawsuits pending around the country have been out on hold. If, as expected, the panel does order federal lawsuits to be transferred into one court, plaintiffs will come together in their search for compensation, and litigators will pool their resources in an effort to resolve the claims as quickly and efficiently as possible.
GSK Fined for Illegally Promoting Zofran to Pregnant Women
So far, there are 12 Zofran lawsuits that would be brought before one judge should the MDL be approved. These are currently pending in a number of different states, including Louisiana, Montana, Alabama, Arkansas, New Jersey, Massachusetts, Ohio, and Texas. If the panel approves the consolidation, it is likely that the litigation will continue to grow, as more plaintiffs will be able to join the MDL.
The FDA approved Zofran in 1991 for the treatment of nausea and vomiting in patients going through surgery or chemotherapy. The drug was never approved for use in pregnant women. In 2012, GSK was fined in excess of $1 billion for illegal marketing of so called "off-label" uses for several of their drugs, including Zofran.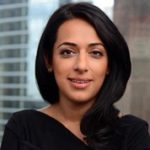 Exclusively focused on representing plaintiffs—especially in mass tort litigation—Roopal Luhana prides herself on providing unsurpassed professional legal services in pursuit of the specific goals of her clients and their families. While she handles complex cases nationwide on behalf of consumers, Ms. Luhana resides with her family in Brooklyn, New York.