More than 20,500 Xarelto lawsuits are pending in consolidated litigation in the U.S. District Court for the Eastern District of Louisiana, and another 1,400 are pending in a mass tort in Philadelphia. Plaintiffs claim that after taking the blood-thinning medication, they developed serious side effects, including excessive bleeding leading to hospitalization and, in some cases, death.
Still, manufacturers Janssen Pharmaceuticals, parent company Johnson & Johnson (J&J), and Bayer AG continue to push the medication as a treatment for reducing the risk of blood clots. More recently, they've applied for two new indications to expand the drug's approved uses.
J&J Says Xarelto Helps Reduce Risk of Heart Attack in Those with PAD
According to the J&J website, Janssen submitted a supplemental New Drug Application (sNDA) to the FDA for two Xarelto indications:
reducing risk of major cardiovascular (CV) events such as heart attack or stroke in patients with chronic coronary or peripheral artery disease (CAD/PAD)
reducing risk of acute limb ischemia (blood clot) in patients with PAD.Both CAD and PAD occur when the arteries become narrowed and hardened over time. This restricts blood flow, and often results in high blood pressure and other related cardiovascular symptoms. Though patients may be treated with low-dose aspirin or other medications, many still remain at risk of a heart attack, stroke, or other serious event.
J&J states that the new applications are based in part on data from the COMPASS study, which tested Xarelto's safety and efficacy for the prevention of major adverse cardiac events (MACE), including cardiovascular death, myocardial infarction and stroke in patients in with CAD or PAD. According to the manufacturer, in the study, Xarelto at the 2.5 mg twice daily vascular dose plus 100 mg of aspirin once daily "significantly reduced the risk of major CV events defined as CV death, heart attack or stroke by 24 percent in patients with chronic CAD and/or PAD compared to aspirin alone."
J&J also reported that the risk of major bleeding was significantly higher in patients taking Xarelto and aspirin compared to aspirin alone in the COMPASS trial.
Doctor Pokes Holes in Study Results
According to John Mandrola, M.D., if the FDA approves Janssen's application, Xarelto could be used in 300 million additional patients. This may be good news for drug makers, but Mandrola warned in a Medscape commentary, that it is not necessarily the case for patients.
Dr. Mandrola noted that even if the COMPASS trial passed the FDA's review, "[he] would hold off the celebration." He suggested that the real reduction in risk of major CV events in COMPASS was not that impressive. Aspirin plus Xarelto reduced the rate of CV death, stroke, and heart attack by 1.3 percent, and the cost of that gain was a 1.2 percent increase in major bleeding.
Dr. Mandrola acknowledged that if you multiply the gain by 300 million people, you could show great benefit to populations. However, he emphasized that regular doctors "don't treat populations. [They] treat patients, and a gain of 1.3 percent means more than 98 percent of people who take this combination get the same result as those who took aspirin alone." He adds that the increase in major bleeding "nearly exactly balances the gain."
The study also showed that for patients older than 75 years, the increased risk of major bleeding was more than double in those taking Xarelto plus aspirin as in those taking aspirin alone.
Plaintiffs awaiting trial in Xarelto litigation would likely warn others to listen to the doctor's advice. "COMPASS proponents now want us to add another expensive…twice-daily drug to the concoction," Mandrola writes. "This is not sustainable. Not for these benefits and harms."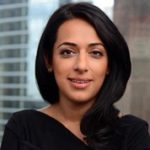 Exclusively focused on representing plaintiffs—especially in mass tort litigation—Roopal Luhana prides herself on providing unsurpassed professional legal services in pursuit of the specific goals of her clients and their families. While she handles complex cases nationwide on behalf of consumers, Ms. Luhana resides with her family in Brooklyn, New York.