On November 18, 2013, Bloomberg reported that Janssen Pharmaceuticals, a subsidiary of Johnson & Johnson (J&J), was ordered by a Philadelphia jury to pay $11 million in a recent Topamax lawsuit. The plaintiffs claimed the anti-seizure drug caused their child to suffer from serious birth defects.
Studies Show Risk of Birth Defects
Haley Powell, a stay-at-home mom, was taking Topamax (an epilepsy drug) when she became pregnant in October 2007. When she gave birth to her son, Brayden, she discovered he suffered from a cleft lip and other deformities. The birth defects are expected to require at least five corrective surgeries before the child turns 21 years old.
In March 2011, the FDA issued a drug safety communication informing the public that new data showed an increased risk for cleft lip and palate in infants born to women treated with Topamax (topiramate) during pregnancy. The drug had been classified as a Pregnancy Category C medication, meaning that animal studies suggested potential fetal risks, but human studies were unavailable. After the new human studies, the FDA changed the drug to a Pregnancy Category D classification, meaning there is positive evidence of human fetal risk based on human data.
The data on which the FDA based their updated recommendations was taken from the North American Antiepileptic Drug (NAAED) Pregnancy Registry, and showed an increased risk of oral clefts in infants exposed to topiramate during the first trimester of pregnancy. The U.K. Epilepsy and Pregnancy Register reported a similar increased prevalence of oral clefts among infants exposed to the drug.
Two Lawsuits Result in Verdicts for Plaintiffs
In her lawsuit, Powell alleged that Janssen failed to provide adequate warnings as to the risks associated with Topamax. In 2007, when her son was born, the FDA warning had not yet been released. Her case was one of over 130 currently pending in Philadelphia, and is the second to result in a verdict for the plaintiff.
On October 30, 2013, a jury ordered Janssen to pay $4.02 million to Virginia resident April Czimmer, who claimed her intake of Topamax during pregnancy resulted in injuries to her son, now six years old. Janssen has stated that it will appeal both verdicts.
According to Bloomberg, Janssen knew as early as 1997 that animal studies of topiramate showed an increased risk for birth defects, yet failed to provide adequate warnings on the label. Additional Topamax trials are scheduled for February and March, 2014.
Cleft Lip and Palate
A cleft lip is a congenital birth defect in which the upper lip is split or separated, with a narrow opening or gap in the skin. The split can extend beyond the base of the nose and actually include the bones of the upper jaw or upper gum. It can also be associated with a cleft palate, which is a split or opening in the roof the mouth—the result of facial malformations that occur early in pregnancy.
Cleft lip affects one in 700 babies every year, and is the fourth most common birth defect in the U.S. Associated complications may include eating, speech, and dental problems. One or more surgeries are typically required to treat the problem.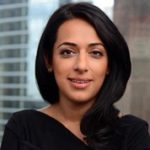 Exclusively focused on representing plaintiffs—especially in mass tort litigation—Roopal Luhana prides herself on providing unsurpassed professional legal services in pursuit of the specific goals of her clients and their families. While she handles complex cases nationwide on behalf of consumers, Ms. Luhana resides with her family in Brooklyn, New York.