The type 2 diabetes drug Invokana (canagliflozin) has been linked with "ketoacidosis," a serious condition that can lead to hospitalization, coma, and even death.
The FDA recently released a drug safety communication warning healthcare providers to be on the watch for symptoms like nausea and vomiting, confusion, unusual fatigue, difficulty breathing, abdominal pain, and a fruity odor on the breath. These are signs that a patient may be suffering from ketoacidosis and needs immediate attention.
Invokana Linked with Several Serious Side Effects
Invokana is one of a group of new drugs meant to treat type 2 diabetes. Called "SGLT2 inhibitors," these drugs work by changing the way the kidneys function.
Typically, the kidneys filter waste products from the blood and flush them out via the urine. Since glucose is the body's main form of fuel, the kidneys return all glucose to the bloodstream. In patients treated with Invokana, however, the kidneys aren't able to absorb as much glucose, causing more of it to be flushed away in the urine. The result is a lower overall blood glucose level, which of course is the goal in patients with type 2 diabetes.
There are some potential problems with this approach, however. For one, the urine typically contains little glucose, and increasing the levels can lead to an increased risk of infections, including urinary tract infections. In fact, in early clinical trials used to gain approval for Invokana, 14 percent of women and 4 percent of men developed fungal infections at rates 4-6 times those in patients taking other drugs.
Invokana Linked with Reduced Kidney Function
In May 2015, the Institute for Safe Medication Practices issued the QuarterWatch report for 2014, Q2. In it, they noted that they had received 457 reports of serious events related to Invokana. These included reports of kidney failure or impairment, kidney stones, urinary tract infections, and dehydration and fluid imbalances.
"Also, early signals for a new kind of diabetes drug, canagliflozin (INVOKANA) raise questions about whether enough is known about this agent to be assured that its benefits outweigh its risks," the authors wrote.
Indeed, early studies on the drug reported a reduction in kidney function—one that may have a more serious effect on kidneys over a long period of time.
Invokana May Increase Risk for Ketoacidosis
The body keeps a pH balance of about 7.38–7.42. The kidneys and the lungs work together to maintain this balance. According to the FDA, Invokana may disrupt this balance, and cause the blood to become too acidic.
The FDA has implemented a new investigation into the safety of the drug after receiving 20 reports of patients with type 2 diabetes developing ketoacidosis, or "diabetic ketoacidosis (DKA)." Since it's typically only patients with type 1 diabetes that develop this condition, the reports were concerning.
Turns out that Invokana and other drugs like it may disrupt the kidneys enough they no longer do as good a job flushing acidic "ketones" out of the body, resulting in ketoacidosis. Symptoms include those mentioned at the beginning of this article—difficulty breathing, nausea and vomiting, abdominal pain, confusion, fatigue, and a fruity odor on the breath.
The FDA warns doctors and patients to take these symptoms seriously, and to see a doctor immediately.
Meanwhile, patients who took Invokana and then suffered from serious side effects like these may be eligible to file a lawsuit in an effort to recover damages.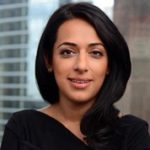 Exclusively focused on representing plaintiffs—especially in mass tort litigation—Roopal Luhana prides herself on providing unsurpassed professional legal services in pursuit of the specific goals of her clients and their families. While she handles complex cases nationwide on behalf of consumers, Ms. Luhana resides with her family in Brooklyn, New York.