Type 2 diabetes patients taking Invokana (canagliflozin) or other similar drugs to lower blood sugar may have an increased risk of yeast infections, as well as recurring infections, according to new research.
Invokana has been previously linked to urinary tract infections and kidney problems, and in May 2015, the FDA warned that it could also increased risk of the dangerous diabetic ketoacidosis (DKA). Researchers from the Jones Center for Diabetes and Endocrine Wellness in Macon, Georgia, now indicate that the way these drugs work could also set both men and women up for experiencing more infections.
Invokana Increases Risk of Yeast Infections by 10-11 Percent
Invokana belongs to a class of drugs known as SGLT2 inhibitors. These drugs work to lower blood sugar by causing the kidneys to excrete glucose through the urine. The urine doesn't usually contain glucose, though, and the change can affect the urinary tract.
Patients prescribed these drugs may be at an increased risk of both yeast and mycotic infections.
• Yeast infection: Though yeast commonly exists in a woman's vagina, too much can cause an infection. Healthy bacteria usually keep the yeast in check, medications like Invokana can upset the balance, allowing yeast to grow out of control. Symptoms include itching and soreness, pain and burning during urination, and painful intercourse. Women may also have a white discharge.
• Mycotic infection: This is a fungal infection that can occur in the genitals of men and women. In women, it's called vaginal thrush, and in men, Candida balanitis. Diabetes patients can be particularly vulnerable to these infections because high blood glucose levels promote yeast attachment and growth, and can also weaken the immune system.
When the FDA approved Invokana for the treatment of type 2 diabetes in 2013, they were aware of the potential for the drug to increase risk of these infections. At the American Diabetes Association 2013 Scientific Sessions, the risks were presented as generally manageable.
According to this recent study, however, around 10-11 percent of patients taking these drugs will suffer an infection, and nearly 20 percent will suffer recurring infections. John Sink, PA, CDE, of the Jones Center for Diabetes and Endocrine Wellness in Macon, George, advised doctors to warn their patients about these side effects, and to talk with both men and women equally, since both are at risk.
"I tell patients who have had an infection there's a one in five chance it will happen again," Sink said.
Invokana Linked to Reports of Adverse Events
Just one year after manufacturers Janssen Pharmaceuticals released Invokana onto the market, it was linked to 457 reports of adverse events, including kidney stones, kidney failure or impairment, urinary tract infections, and dehydration and fluid imbalances.
In the Institute for Safe Medicine's QuarterWatch report for the second quarter of 2014, the authors noted that the drug had appeared in many reports of health problems, stating: "Also, early signals for a new kind of diabetes drug, canagliflozin (INVOKANA) raise questions about whether enough is known about this agent to be assured that its benefits outweigh its risks."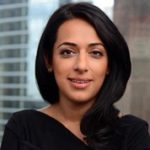 Exclusively focused on representing plaintiffs—especially in mass tort litigation—Roopal Luhana prides herself on providing unsurpassed professional legal services in pursuit of the specific goals of her clients and their families. While she handles complex cases nationwide on behalf of consumers, Ms. Luhana resides with her family in Brooklyn, New York.