A group of plaintiffs has filed a new Xarelto lawsuit in the current MDL, proceeding in the U.S. District Court for the Eastern District of Louisiana. The plaintiffs include three families who lost loved ones allegedly because of serious Xarelto side effects, as well as individuals who suffered significant injuries after using the blood-thinning drug.
The plaintiffs name as defendants manufacturers Janssen Pharmaceuticals, parent company Johnson & Johnson, and Bayer Pharma AG. The case was filed on February 8, 2016, with plaintiffs seeking in excess of $75,000 in damages.
Plaintiffs Point to Flaws in Xarelto Clinical Trials
The plaintiffs include the following:
A Kentucky man who claims that after taking Xarelto, he suffered a gastrointestinal bleed.
The daughter of a deceased Alabama woman who took Xarelto for a couple months in 2014 and suffered internal bleeding that led to her death.
The estate representatives of a Colorado man who took Xarelto for about a year and suffered internal bleeding that led to his death.
The daughter of a deceased Georgia woman who took Xarelto for only about a month in 2014 before suffering gastrointestinal bleeding and severe internal bleeding that led to her death.
A Pennsylvania woman who took Xarelto for only about a month before suffering gastrointestinal bleeding on three different occasions.
A Florida individual who took Xarelto for about four months and then suffered internal bleeding.
A Georgia man who took Xarelto and then suffered gastrointestinal bleeding and internal bleeding on two separate occasions.
The plaintiffs noted in their complaint that the "RECORD" studies used to gain FDA approval for Xarelto for the prevention of blood clots in patients going through hip and knee surgery were "flawed in design and conducted in a negligent manner." They also alleged that after an FDA inspection, four of the studies were found to be so flawed that they were deemed unreliable. Still, the drug was approved for this use.
According to the plaintiffs, the "ROCKET" studies used to gain FDA approval for Xarelto for the prevention of stroke in patients with non-valvular atrial fibrillation were also found to be flawed, in that the warfarin comparative group was not "well managed," making it easier for Xarelto to appear equal in efficacy to the long-standing anticoagulant.
In support of their position, the plaintiffs quoted from an FDA Advisory Committee Briefing that "the data comparing [Xarelto] to warfarin are not adequate to determine whether [Xarelto] is as effective for its proposed indication in comparison to warfarin with the latter is used skillfully."
Plaintiffs Question Once-A-Day Dosing
The plaintiffs also point to problems with Xarelto's once-a-day dosing. The manufacturers used this as a way to establish Xarelto's superiority to warfarin, calling it more convenient than the twice-a-day dosing required with Warfarin. FDA clinical reviewers, however, stated that the "rationale" for the once-a-day dosing was "not strong," because clinical studies suggested that twice-a-day dosing would be wiser, as it created more consistent levels of the drug in the bloodstream, reducing the risk of the blood becoming too thin because of high levels, or prone to clotting because of low levels.
According to an FDA advisory meeting transcript, and concern was raised that "the dose was selected more for a marketing advantage rather than for the scientific data that was available, and was a mistake…."
Finally, the plaintiffs point to the fact that there is no reversible agent for Xarelto, so patients who suffer from excessive bleeding must simply wait for the drug to clear from their systems, which can make bleeding side effects particularly dangerous.
According to the plaintiffs, the defendants failed to warn about these risks, misled patients and doctors in their advertisements, and failed to adequately study the drug to eliminate clear safety risks. They bring counts of strict liability, manufacturing and design defects, failure to warn, negligence, breach of warranties, negligent misrepresentation, fraud, loss of consortium, and wrongful death. They seek compensatory and punitive damages.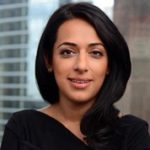 Exclusively focused on representing plaintiffs—especially in mass tort litigation—Roopal Luhana prides herself on providing unsurpassed professional legal services in pursuit of the specific goals of her clients and their families. While she handles complex cases nationwide on behalf of consumers, Ms. Luhana resides with her family in Brooklyn, New York.