On March 20, 2015, Tennessee resident Danny Julian filed a Xarelto wrongful death lawsuit on behalf of his father, Tommy Julien. The Plaintiff claims that his father died after using the anticoagulant drug. He names manufacturers Bayer Healthcare Pharmaceuticals, Janssen Pharmaceuticals, and parent company Johnson & Johnson as Defendants, and seeks in excess of $75,000 in damages.
The case joins the current MDL proceeding in the Eastern District of Louisiana.
Patient Dies of Xarelto Internal Bleeding
According to the Complaint, Tommy Julien began taking Xarelto around November 13, 2012. His doctor prescribed it for him to help reduce his risk of stroke, as he had non-valvular atrial fibrillation, which naturally increases the risk of stroke.
The FDA approved Xarelto for the treatment of patients with non-valvular atrial fibrillation on November 4, 2011. This was after they had already approved it in July 2011 to help reduce the risk of blood clots in patients who had gone through knee or hip replacement surgery.
At the time, the manufacturers advertised the drug as being the only once-a-day prescription blood thinner that could reduce the risk of stroke without routine blood monitoring, such as what is required in patients using warfarin—the leading anticoagulant for decades.
On March 27, 2013, only a few months after he started taking Xarelto, Mr. Julien suffered from internal bleeding. This bleeding could not be stopped and he later died of his injuries on March 29, 2013.
Defendants Failed to Warn About Serious Xarelto Side Effects
The Plaintiff states that had the Defendants warned about the risks of using Xarelto, Tommy Julien would have never have taken it. He notes that the boxed warning on the drug did not address the risk for serious and fatal bleeding, despite the fact that during early clinical trials, Xarelto caused more gastrointestinal bleeds than warfarin. Plaintiffs taking Xarelto also required more blood transfusions than patients taking warfarin.
In the Institute for Safe Medication Practices Quarter Watch, October 3, 2012, Xarelto was linked with serious blood clot related injuries, most frequently pulmonary embolism. The report also noted that about 44 percent of adverse event reports concerning Xarelto involved a lack of efficacy for patients who used it after hip and knee replacement surgery.
The Plaintiff addS that the Defendants failed to warn about the lack of an adequate antidote to reverse cases of uncontrolled bleeding caused by Xarelto. Whereas patients taking warfarin may be treated with injections of vitamin K, there is no such remedy for Xarelto bleeding, which can make it more serious and potentially deadly.
"Defendants merely indicated that there was a risk for bleeding," the Plaintiffs states in his Complaint, "and side-stepped the important issue of reversing the effects of Xarelto should a bleed occur."
Plaintiff Seeks Punitive Damages
Plaintiff brings counts of failure to warn, design defect, negligence, negligent design, negligent misrepresentation, breach of warranties, fraud, violation of consumer protection laws, and wrongful death. He seeks compensatory and punitive damages.
Currently, about 300 similar lawsuits are pending in the Xarelto MDL, with U.S. District Judge Eldon E. Fallon presiding.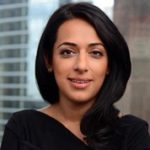 Exclusively focused on representing plaintiffs—especially in mass tort litigation—Roopal Luhana prides herself on providing unsurpassed professional legal services in pursuit of the specific goals of her clients and their families. While she handles complex cases nationwide on behalf of consumers, Ms. Luhana resides with her family in Brooklyn, New York.