Plaintiffs filing Xarelto lawsuits allege that manufacturers Janssen Pharmaceuticals (a subsidiary of Johnson & Johnson) and Bayer AG failed to warn about a lack of antidote to Xarelto bleeding. Patients taking warfarin (the leading anticoagulant for decades) who suffer from uncontrollable bleeding can be treated with injections of vitamin K, which encourage the blood to clot again.
Patients taking Xarelto, however, who develop uncontrollable bleeding, are in a much more precarious position, because doctors have no antidote to stop it. Those who take Xarelto and suffered from severe gastrointestinal bleeding, brain hemorrhaging, or other bleeding events may find themselves in life-threatening situations at the hospital with doctors scrambling to find other ways to help them.
The FDA approved Xarelto for reducing the risk of blood clots in patients going through hip and knee replacement operations in 2011, and later that same year to reduce the risk of stroke in patients with non-valvular atrial fibrillation. Four years later, there is still no available antidote to treat uncontrollable bleeding caused by the drug.
FDA Approves Antidote to Pradaxa Bleeding
On October 16, 2015, the FDA approved Praxbind (darucizumab), a new drug that will reverse the blood-thinning effects of Pradaxa, another anticoagulant that was approved in 2010.
The FDA announced the approval on its website, stating that the new drug "offers the medical community an important tool for managing patients taking Pradaxa in emergency or life-threatening situations when bleeding can't be controlled."
The manufacturer of Praxbind, Boehringer Ingelheim (the same company that manufacturers Pradaxa), submitted three clinical trials showing the drug to reduce the amount of Pradaxa in a patient's blood, allowing the blood to clot again more normally.
Pharmaceutical Company Working on Xarelto Antidote
Praxbind is designed specifically to reverse the effects of Pradaxa. However, Pradaxa works differently than Xarelto. Pradaxa is a direct thrombin inhibitor, whereas Xarelto is more indirect, binding to a substance called "factor Xa (FXa)" to prevent the formation of thrombin.
Portola Pharmaceuticals is working on an antidote for Xarelto. On September 15, 2015, they announced that phase 3 testing on "andexanet alfa," an antidote to all FXa inhibitors (including Xarelto and Eliquis), had "achieved all primary and secondary endpoints with high statistical significance." The drug is specifically designed to reverse the activity of Xarelto and other similar drugs, and to be used specifically when patients suffer from uncontrollable bleeding caused by these drugs, or when patients taking the drugs have to go through emergency surgery.
The results of this phase three testing will be presented at the American Heart Association's Scientific Sessions 2015 in November. Executive vice president of research and development at Portola, John T. Curnutte, stated that he believes the results of the trials support the potential of the new drug to "become the first approved reversal agent for Factor Xa inhibitors and a standard of care to manage major bleeding associated with these novel anticoagulants." If an antidote for Xarelto bleeding is approved in the future, it will not help the many injured Xarelto users who have already suffered a dangerous and potentially life-threatening internal bleed.
Xarelto Lawsuits Proceeding in Louisiana and Pennsylvania
Meanwhile, patients who suffered from uncontrollable bleeding injuries may be eligible to file a Xarelto lawsuit to recover damages. In December 2014, the U.S. Judicial Panel on Multidistrict Litigation (JPML) consolidated all federal cases into the Eastern District of Louisiana for pre-trial proceedings. A mass tort has also been formed in Philadelphia. More than 500 cases are now pending in the combined litigation.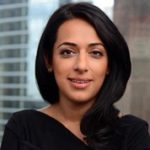 Exclusively focused on representing plaintiffs—especially in mass tort litigation—Roopal Luhana prides herself on providing unsurpassed professional legal services in pursuit of the specific goals of her clients and their families. While she handles complex cases nationwide on behalf of consumers, Ms. Luhana resides with her family in Brooklyn, New York.