Patients who are taking certain type 2 diabetes drugs need to be aware of a potential risk for a rare but serious genital infection. The FDA recently warned that drugs like Invokana, Jardiance, Farxiga, and other SGLT2 inhibitors could increase the risk of an infection called "Fournier's gangrene."
The FDA advised patients and doctors to watch for symptoms like tenderness, redness, and swelling of the genitals or the area from the genitals back to the rectum, along with a fever above 100.4 Fahrenheit.
Patients detecting symptoms like these should seek medical treatment right away, as the infection can be life-threatening.
FDA Receives Reports of Patients Developing Fournier's Gangrene
Between March 2013 and May 2018, the FDA identified 12 cases (7 men and 5 women) of Fournier's gangrene in patients taking an SGLT2 inhibitor. These are type 2 diabetes medications that help to control blood sugar by stimulating the kidneys to remove glucose (sugar) from the body through the urine.
The FDA added that there may be more cases about which they are unaware, since the agency only knows about reports that were submitted to the FDA or discovered in medical literature. In reported cases, the infection developed within several months of the patients starting the drugs, and all 12 patients had to be hospitalized. All patients required surgery to treat the infection, and some required multiple surgeries that left them disfigured. One patient died.
Patients are advised to watch for symptoms, and to seek immediate medical attention if they notice these symptoms, as early treatment can be life-saving. Healthcare professionals are also advised to assess patients for Fournier's gangrene if they develop related symptoms.
Diabetics More at Risk for Fournier's Gangrene
Medically termed "necrotizing fasciitis of the perineum," Fournier's gangrene is a condition in which an infection leads to the death of tissue, muscle, nerves and blood vessels in the perineum. In a man, the perineum is the area between the scrotum and the anus, and in a woman, it is the area between the anus and the vulva. Gangrene can spread from the genitals to the thighs, stomach, and chest.
Fournier's gangrene is typically caused by some sort of infection, including the following:
Urinary tract infections
Bladder infections
Hysterectomies
Abscesses
There are also some factors that can increase a person's risk for the condition, including diabetes, a compromised immune system, morbid obesity, and a history of alcohol abuse. Diabetics may be particularly at risk. In a 2012 study, researchers noted that diabetes was present in 20-70 percent of patients with Fournier's gangrene.
It is unclear at this point why SGLT2 inhibitors might be connected with an increased risk of this condition. Research has shown, however, that when combined with other prescription diabetes medicines, the drugs can increase the risk of yeast infections and urinary tract infections.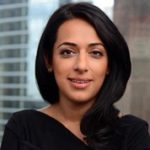 Exclusively focused on representing plaintiffs—especially in mass tort litigation—Roopal Luhana prides herself on providing unsurpassed professional legal services in pursuit of the specific goals of her clients and their families. While she handles complex cases nationwide on behalf of consumers, Ms. Luhana resides with her family in Brooklyn, New York.