Mirena litigation is already underway at the federal level, with the U.S. Judicial Panel on Multidistrict Litigation consolidating all federal cases in April 2013. While these lawsuits are proceeding in the Southern District of New York, women who have been injured worldwide are also seeking compensation from manufacturer Bayer for alleged injuries like perforation, migration, infections, and more.
On April 23, 2013, plaintiffs filed a new Mirena class action lawsuit with the Nova Scotia Supreme Court on behalf of all Canadian women who have allegedly suffered from serious injuries after being implanted with the Mirena birth control device.
Lead Plaintiff Claims To Suffer Mirena Perforation and Migration
The lead plaintiff in this case, Amy Tudor of Westport, was implanted with a Mirena IUD on December 7, 2010. About two years later, on November 10, 2012, she went to the hospital because of abnormal pain, and was told she was pregnant.
A later ultrasound test revealed that the Mirena birth control device had perforated Tudor's uterus and migrated into the lower area of her cervix. She was advised to go through surgery to have it removed. Meanwhile, she plans to carry the baby to term and is due June 25, 2013.
Mirena Causing Pain
Tudor has stated that she seeks to raise awareness of potential Mirena side effects through the class action lawsuit, hoping to warn other women of the injuries she has experienced. Approved by the FDA in 2000, the Mirena has been the subject of over 45,000 complaints sent to the agency. Though the product label warns of potential perforation during implantation, many women have suffered from perforation and migration of the device to other areas of the body many months or even years after the device was inserted into the uterus.
"It's a weird thing," Tudor said in an interview. "It's like I'm being stabbed daily. So I'm not only being kicked and punched internally, now I feel like I'm having stabbing pain."
Tudor already has two children, and hadn't planned on a third, which is why she elected to have the Mirena implanted in the first place. She has been trying to get the word out about her difficulties, to spare other women from suffering the same pain and anxiety. "I had a couple friends who were quite shocked and are having theirs taken out," she said, "because as soon as you meet someone it happened to, it's a whole different ball game."
Lawsuits Claim Failure to Warn
As in many Mirena lawsuits, this one claims that manufacturer Bayer failed to warn that the device could potentially move out of place spontaneously, then migrate to other organs where it may cause pain, infections, bleeding, and more. Tudor ads that women who have the Mirena should be regularly monitored for complications, and that Bayer should provide this medical service.
Health Canada warned about the potential for uterus perforation when using IUDs like the Mirena in 2010, advising doctors and patients of the potential for the injury, and warning them that sometimes perforation occurring during insertion was unnoticed until weeks later. Perforation is a dangerous potential side effect, as the device can migrate outside the uterus into the abdominal cavity, where it can cause damage to the intestines and other organs.
"Perforation of the uterine wall often results in migration from the uterus," stated Tudor's class action lawsuit, "and often requires complicated, expensive and painful treatment to correct."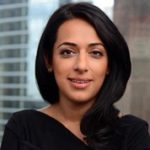 Exclusively focused on representing plaintiffs—especially in mass tort litigation—Roopal Luhana prides herself on providing unsurpassed professional legal services in pursuit of the specific goals of her clients and their families. While she handles complex cases nationwide on behalf of consumers, Ms. Luhana resides with her family in Brooklyn, New York.