Risperdal (risperidone), an anti-psychotic drug, was initially approved by the FDA for use in adults in 1993. It wasn't cleared for use in children until 2006, though some doctors prescribed it "off-label" to treat symptoms of schizophrenia, autism, and bipolar disorder.
That same year, researchers discovered that Risperdal increased levels of the hormone prolactin in the blood of adolescent boys, increasing risk of gynecomastia (abnormal breast growth). Later studies confirmed these results, noting that after treatment with Risperdal, prolactin levels could stay elevated in young people for up to two years.
Now, in a study recently published in the Journal of Child and Adolescent Psychopharmacology, researchers report that Risperdal has been overprescribed in foster children suffering from ADHD.
"Over the last two decades," the authors wrote, "the increased use of second-generation antipsychotic medications, that is, atypical antipsychotics, has been profound."
Study Finds Foster Kids More Likely to be Prescribed Risperdal
Back in 2013, the Wall Street Journal reported that federal health officials had launched a probe into the use of antipsychotic drugs on children, concerned they were being used too often. According to an analysis by Mathematica, the number of people "under the age of 20 receiving Medicaid-funded prescriptions for antipsychotic drugs tripled between 1999 and 2008."
For this study, researchers looked at data for over 266,000 children and adolescents 2-17 years old. They analyzed those who were prescribed anti-psychotic medications, and how long patients took these medications.
Results showed that overall, kids who were enrolled in foster care had a threefold greater use of antipsychotic drugs, including Risperdal, Abilify, and Seroquel. Nearly one third of those diagnosed with ADHD received these drugs regardless of their age—yet the FDA has approved them for use only in youth with schizophrenia, bipolar disorder, or irritability associated with autism.
Risperdal Linked with Several Serious Side Effects
Treating this many children with these drugs has raised significant concerns. Not only has Risperdal been linked with an increased risk of gynecomastia, its use among preschool children has also been linked with cardiac and metabolic abnormalities. (Biederman et al. 2005 and Joshi et al. 2012) Long term use in children has been associated with cardiac problems and movement disorders. (Laita et al. 2007)
"Atypical antipsychotic use for behavioral conditions in youth populations is prominent," the researchers wrote, "with substantially longer durations of exposure in foster care youth and very young children. Exposure to atypical antipsychotics, in particular for children in foster care and those diagnosed with ADHD was substantial, warranting independently conducted outcomes research for long-term effectiveness, safety, and appropriate cardiometabolic monitoring."
Pharmaceutical Companies Pushing Drugs for Kids
A recent article in the Denver Post states drug companies have over-promoted their products for use in children and adolescents, noting that their 2012 investigation into the use of antipsychotics in foster children found they were "prescribed the mood-altering drugs at a rate 12 times higher than that of other children on Medicaid in Colorado in 2012."
Johnson & Johnson was recently ordered to pay $2.2 billion in fines to resolve criminal and civil allegations brought by the U.S. government, which included that they had targeted "key opinion leaders" to promote the use of Risperdal in children.
Victims of gynecomastia and other serious Risperdal side effects have filed lawsuits against manufacturer Janssen Pharmaceuticals and parent company Johnson & Johnson (J&J). Over 300 cases are currently pending in the Philadelphia Court of Common Pleas, where a mass tort has been established.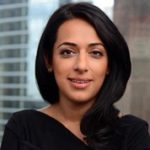 Exclusively focused on representing plaintiffs—especially in mass tort litigation—Roopal Luhana prides herself on providing unsurpassed professional legal services in pursuit of the specific goals of her clients and their families. While she handles complex cases nationwide on behalf of consumers, Ms. Luhana resides with her family in Brooklyn, New York.