On October 7, 2022, the U.S. Judicial Panel on Multidistrict Litigation (JPML) ordered all federally filed Exactech lawsuits consolidated in the Eastern District of New York.
Recently, the court released a joint status report indicating 571 cases are pending in or being transferred to this MDL. A total of 481 involve Exactech knee implants, 82 involve hip products, and 7 involve ankle implants. One is an economic class action brought on behalf of third-party payers.
Meanwhile, 185 state cases are pending in the Florida consolidated proceedings, with an additional 23 cases in other state courts.
Exactech Recalls Joint Replacement Devices Due to Potentially Defective Liners
In June 2021, Exactech recalled some GXL liners for Novation, Acumatch, and MCS hip replacement devices due to excessive and premature wear. In August 2022, the company expanded that recall to include all hip devices with polyethylene components packaged in defective bags.
Then on February 7, 2022, Exactech expanded that recall to include all Optetrak, Logic, and Trulient knee replacements and Vantage total ankle replacements delivered in defective bags. These were storage bags that lacked an additional oxygen barrier layer. This could increase the risk that the insert could be exposed to oxygen, which could cause the plastic to wear out earlier than expected or become damaged after implantation.
At the time of the February recall, Exactech announced that most of the inserts manufactured since 2004 had been packaged in these non-conforming bags.
In an update issued on March 23, 2023, the U.S. Food and Drug Administration (FDA) reminded patients and healthcare providers about the recalled devices. "Oxidation can lead to accelerated device wear/failure," the FDA noted, "and component cracking or fracture, all leading to corrective revision surgery. Some of the recalled devices are associated with increased risk of revision surgeries and bone loss related to excessive device wear/failure."
Exactech Litigation Growing as the Parties Proceed
Following the recalls, several patients who had suffered from premature Exactech joint failures and who had to go through revision surgery filed lawsuits against the manufacturer. As the litigation grew, all federal cases were consolidated in New York, while state cases in Florida also came together in the Eighth Judicial Circuit, Alachua County.
Coordinated proceedings allow the parties to more efficiently conduct preparations for trial without having to worry about conflicting rulings. Typically, the judges overseeing the litigation work with the parties to select a small number of cases to prepare for early, so-called "bellwether" trials. These help the parties gauge how juries may respond to the evidence, and can sometimes lead to settlement negotiations.
The plaintiffs and defendants in the New York MDL have had a series of meetings on a potential bellwether plan. Both parties agreed that 12 cases should be presented to the court and that the court should narrow that list to six cases—3 knee cases and one hip case, then one hip and one knee to serve as backup cases.
Florida state consolidated litigation leadership has also met on competing bellwether proposals. At the time of the report, the judge had not yet ruled on those proposals.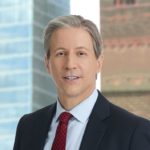 Exclusively focused on representing plaintiffs, especially in mass tort litigation, Eric Chaffin prides himself on providing unsurpassed professional legal services in pursuit of the specific goals of his clients and their families. Both his work and his cases have been featured in the national press, including on ABC's Good Morning America.