On October 7, 2022, the Judicial Panel on Multidistrict Litigation (JPML) ordered that all federally filed Exactech joint lawsuits be centralized in the Eastern District of New York. U.S. District Judge Nicholas G. Garaufis was appointed to oversee the pre-trial proceedings.
Plaintiffs involved in the litigation claim that Exactech joint replacement devices were defective and caused them to suffer from serious injuries.
Exactech Recalls Knee and Ankle Joint Replacement Devices
The new litigation will include lawsuits concerning Exactech knee, hip, and ankle replacement devices. Dozens of these lawsuits have been brought in U.S. courts around the country over the past several months, and it's expected that more will join the litigation as time goes on.
On February 17, 2022, Exactech recalled over 140,000 Optetrak, Opetrak Logic, and Truliant knee replacement systems as well as 1,500 components used in Exactech Vantage ankle replacement systems. All of these devices used polyethylene inserts between the metal components as a type of shock absorber.
At the time of the recall, Exactech revealed that since 2004, these inserts had been packaged in non-conforming vacuum bags that did not offer the expected protection against oxidation. These bags lacked an additional oxygen barrier layer, which could increase the risk that the plastic would wear out earlier than expected or become damaged after being implanted into the patient's body.
The recalled inserts may be associated with the following risks:
Increased risk of polyethylene (plastic) wear
Potential development of osteolysis (bone loss)
Significantly higher and earlier than expected revision rates
Exactech Recalls Hip Replacement Systems Too Due to Defective Liners
Exactech has had problems with some of its other joint replacement devices as well.
In a 2020 study, researchers discovered that the Exactech Connexion GXL liner—a similar insert used in hip replacement devices—"may be prone to a high rate of early failure from wear and severe secondary osteolysis." Osteolysis is a condition where bone tissue is destroyed.
In another study that same year, researchers noted a "concerning trend" with the same liner. In July 2021, the company informed doctors of a higher-than-expected number of cases in which the Connexion GXL liner exhibited early wear. One of the identified reasons? The inserts were packaged in non-conforming vacuum bags.
Similar issues have impacted the Exactech Novation and Acumatch hip implants since 2008.
On August 11, 2022, Exactech released an urgent letter to healthcare providers. As with the knee and ankle recall, this recall expanded on the 2021 recall to include more acetabular liners used in hip replacements that were packaged in non-conforming bags.
Plaintiffs and Defendants Agreed to Centralization
In June 2022, several plaintiffs filed a motion to centralize all Exactech joint lawsuits in the Eastern District of New York to avoid duplicative discovery, reduce the risk of conflicting rulings, and serve the convenience of witnesses and the parties involved.
Exactech filed a response supporting centralization but suggested the Southern District of New York or the Eastern District of Louisiana.
The JPML agreed with the plaintiffs and ordered the creation of the Exactech MDL in the Eastern District of New York. As of the date of the transfer order, there were 75 filed or pending complaints in various courts nationwide. It is expected that more plaintiffs will bring additional claims in the coming months.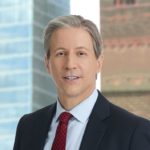 Exclusively focused on representing plaintiffs, especially in mass tort litigation, Eric Chaffin prides himself on providing unsurpassed professional legal services in pursuit of the specific goals of his clients and their families. Both his work and his cases have been featured in the national press, including on ABC's Good Morning America.