Ever since a group of scientific studies came out connecting the interstitial cystitis drug Elmiron (pentosan polysulfate sodium or PPS) with eye and vision damage, patients have been filing Elmiron lawsuits in the hopes of recovering damages for their injuries. On December 15, 2020, the U.S. Judicial Panel on Multidistrict Litigation (JPML) consolidated all federally filed Elmiron lawsuits into one court in the District of New Jersey for pre-trial proceedings.
Plaintiffs typically allege that after using the drug, they suffered from eye damage and vision problems. The number of lawsuits filed is expected to continue to increase over the coming months.
Elmiron MDL Court Moving Forward on Cases
The MDL court recently released a case management order showing the status of the litigation. As of March 10, 2021, there were 196 cases alleging product liability claims relating to the use of Elmiron. One-hundred-seventy-one of those were filed in the federal consolidated litigation in New Jersey, and another 25 were filed in New Jersey and Pennsylvania courts.
Meanwhile, the parties are conferring over future actions in the litigation, including the creation of plaintiff and defendant fact sheets; a scheduling order, including future trial date; and a protocol governing remote depositions.
The parties will continue to confer regarding all discovery issues and will provide an update to the court at the next case management conference. They are also looking into the scheduling of a science day to inform all parties about the available science related to the drug and the plaintiffs' claims.
The next case management conference was scheduled for Wednesday, April 14, 2021.
Recent Study Provides More Evidence of Elmiron-Vision Loss Link
In February 2021, a new study published in Clinical Ophthalmology examined data from patients exposed to Elmiron who were seen in the ophthalmology clinic at Northwestern University between January 1, 2002, and January 1, 2019. Scientists reviewed records including information on visual acuity, ocular conditions, and duration of PPS exposure.
A total of 131 patients were exposed to PPS and seen at the clinic. Forty of them had imaging tests performed on their eyes. Of those, 12.5 percent had features suspicious for PPS maculopathy—a unique type of retinal damage linked only with Elmiron use. Of the remaining patients, 5.4 percent had pigmentary changes on the retina, which is also a characteristic of Elmiron-related damage.
Among the 10 patients in the suspect group, the average duration of PPS was 4.2 years. The scientists concluded that a novel drug-induced maculopathy (injury to the macula at the center of the retina) was associated with the use of Elmiron.
This is one of many studies showing an increased risk of retinal damage after prolonged use of Elmiron. In June 2020, the manufacturer added a warning to the drug label alerting physicians and patients to the risk of eye damage. Before that, there was no such warning.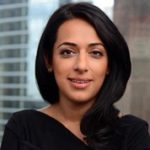 Exclusively focused on representing plaintiffs—especially in mass tort litigation—Roopal Luhana prides herself on providing unsurpassed professional legal services in pursuit of the specific goals of her clients and their families. While she handles complex cases nationwide on behalf of consumers, Ms. Luhana resides with her family in Brooklyn, New York.