Manufacturer Monsanto and parent company Bayer are currently facing thousands of lawsuits filed by plaintiffs who claim to have developed non-Hodgkin's lymphoma after using the herbicide Roundup for extended periods of time. Several studies have linked Roundup and its main ingredient glyphosate to non-Hodgkin's lymphoma, though other studies have shown mixed results.
In the midst of the concerns about cancer, however, other potential health risks associated with Roundup have gotten lost in the shuffle. In a recent editorial published in Bloomberg, science writer Mark Buchanan points out that the herbicide has also been linked with health issues like liver and kidney damage and birth defects.
Science Writer Advocates for Limiting the Use of Glyphosate
According to Buchanan, scientific studies published over the last decade suggest that glyphosate remains in the soil much longer than previously believed, and regularly taints human food supplies.
According to a 2016 study, glyphosate-based herbicides are the most heavily applied in the world. Usage continues to rise, with glyphosate and its metabolites "widely present in the global soybean supply," and human exposure continuing to rise. In a recent 2019 animal study, researchers reported that the effects of glyphosate showed up in two generations of offspring, affecting prostate, kidney, and ovarian health.
Another study published in the medical journal Clinical Gastroenterology and Hepatology showed that glyphosate residue was significantly higher in patients with non-alcoholic fatty liver disease (NAFLD) than in those with healthier livers. Researchers noted that the findings suggest a link between the use of commercial glyphosate and the prevalence of NAFLD in the United States, which has been on the rise for two decades.
Buchanan adds that in both the U.S. and Europe, the "supposedly safe limits for human ingestion [of glyphosate] are based on long-outdated science….Glyphosate isn't as safe as its manufacturers would like us to believe, and steep reduction in its use is probably long overdue."
Critics Note that Monsanto Has Tried to Influence the Evidence
The most recent Roundup trial took place in California, where a jury determined that Monsanto and Bayer should pay in excess of $2 billion in damages to a couple who both claimed to have developed non-Hodgkin's lymphoma after using Roundup for decades on their property. Bayer has vowed to appeal this and the other two Roundup verdicts that have favored plaintiffs.
In their defense, Bayer points to the recent move by the U.S. Environmental Protection Agency (EPA) to uphold a prior review finding glyphosate does not cause cancer.
Critics refer to the "Monsanto papers," a group of documents turned over to the courts in the Roundup litigation that indicate that Roundup manufacturers ghostwrote studies on glyphosate, interfered in the peer review process, and worked with the EPA to delay the release of a scientific report on glyphosate.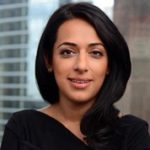 Exclusively focused on representing plaintiffs—especially in mass tort litigation—Roopal Luhana prides herself on providing unsurpassed professional legal services in pursuit of the specific goals of her clients and their families. While she handles complex cases nationwide on behalf of consumers, Ms. Luhana resides with her family in Brooklyn, New York.